The picture says it all, doesn't it?
I'm delighted to announce that Troll-magic is here in a trade paperback edition!
And – am I allowed to say this? – it's such a pretty book!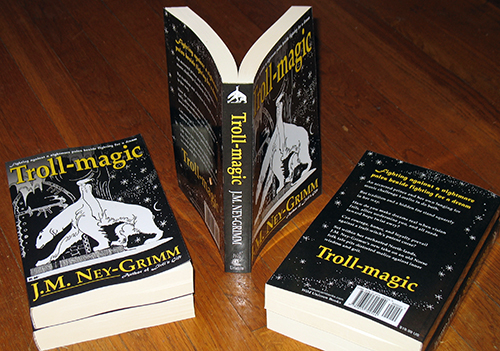 Fighting against a nightmare pales beside fighting for a dream.
An accursed prince and her own longing for music challenge Lorelin to do both.
But tradition and a hidden foe stand squarely in her way. How do you make dreams real when vision fails, allies undermine you, and all roads toward hope twist awry?
Can courage, honor, and loyalty prevail against a troll-witch's potent curse?
Set within the enchanted North-lands, this new take on an old Norse folk tale pits distorted malice against inner wisdom and grit.
Troll-magic is available as a trade paperback from Amazon.
You may also order it from your local bookstore!
ISBN-10: 0615702546
ISBN-13: 978-0615702544
Of course, the novel continues to be available as an ebook for e-reader aficionados.
Amazon I B&N I Diesel I iTunes I Kobo I Smashwords I Sony