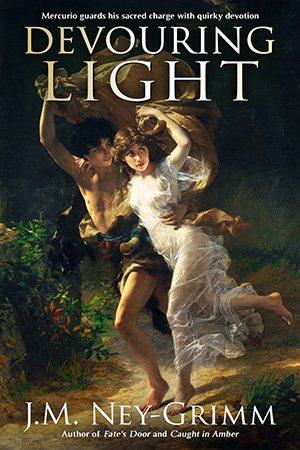 Mischievous Mercurio guards the planet Mercury – his sacred charge – with quirky devotion. He loves the oddball chunk of rock, with its illusion of retrograde motion and its out-of-sync orbit and spin.
Almost as much as he loves playing pranks.
But when Earth's guardian Gaia bids Mercurio to organize a circus act for Sol's birthday celebration, the joke's on him.
While Mercurio wangles his way around the captious refusals of his would-be stilt-walkers and clowns – "No, no, and no!" – the somber guardian of Pluto plots a darker scheme.
With the subtle delight, clever misdirection, and teasing wordplay that Mercurio himself enjoys, J.M. Ney-Grimm tells a tale of steeply rising stakes in a clockwork solar system ruled by the gods of ancient Rome.
Devouring Light is available as an ebook.
Amazon I B&N I iTunes I Kobo I Smashwords
Devouring Light is available as trade paperback.
Amazon I B&N I Book Depository I Fishpond I Mysterious Galaxy Books I Powell's Books
You may also order it from your local bookstore.
ISBN-10: 0615973132
ISBN-13: 978-0615973135

PRAISE FOR DEVOURING LIGHT
"…a celestial world of clockwork and the spheres in gorgeously embroidered language. We are introduced to Mercurio, the god of the first planet, and his mysterious visitor, a beautiful young woman with memory gaps who literally falls from the sky. The story draws clear parallels between the characters and their celestial counterparts, the gods and their planets or constellations, in a way that keeps you guessing as to the identity of the visitor. Just like Mercurio's own efforts to stage a grand spectacle for Sol, the author sets the stage for a spectacular finale. Her mastery of style really makes that finale sing.
"I recommend this for people who like Tanith Lee, epic style, and a writer who plays mischievously with both language and the reader." – Amazon review