Two years ago I wrote about soap and shampoo and lip balm. I'd recently discovered that modern toiletries weren't as safe as I'd always believed. I was dismayed and wanted to share my new-to-me knowledge with others.
Especially because I'd hunted up alternatives that were both safe and effective.
You can read that blog post here.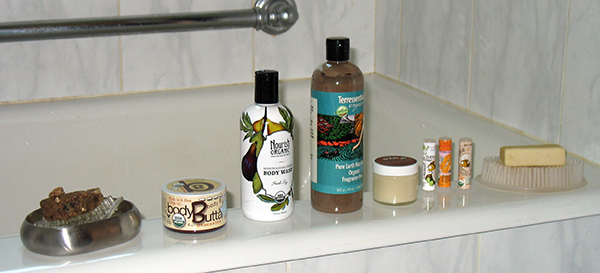 Now I've got an update!
I'm still using the same wonderful Terressentials hairwash, Bubble&Bee lip balm and "bodyButta" lotion, pure castile soap from the Blue Ridge Soap Shed, alata soap from SheAyurvedics, and Bubble&Bee deodorant. These products have worked for me over the long haul.
But, at last I've found a solution to my face soap dilemma!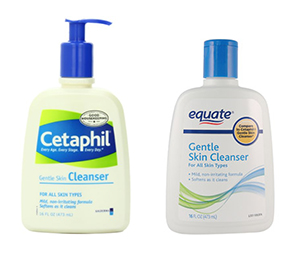 Before my toiletries revelation, I'd been using a generic version of Cetaphil® Gentle Cleanser. It worked well. The Gentle Cleanser kept my face clean without drying my skin. Perfect! Until I checked the EWG Skin Deep® Cosmetics Database.
Amongst Cetaphil's ingredients:
Propylparaben – developmental/reproductive toxicity, endocrine disruption, allergies/immunotoxicity – EWG score of 10, the worst
Butylparaben – biochemical or cellular level changes, developmental/reproductive toxicity, endocrine disruption, allergies/immunotoxicity – EWG score of 7, not good on a scale of 1 – 10
Methylparaben – biochemical or cellular level changes, endocrine disruption, allergies/immunotoxicity – EWG score of 4, still not great (I like products with ingredients that score 0 or 1)
Propylene Glycol – enhanced skin absorption, allergies/immunotoxicity, irritation (skin, eyes, or lungs), organ system toxicity (non-reproductive) – EWG score of 3, better but not the range I prefer
I gave up my Gentle Cleanser, but my face suffered.
The pure castile soap was gentle, but not gentle enough for my face. The alata soap was gentler yet, but not gentle enough.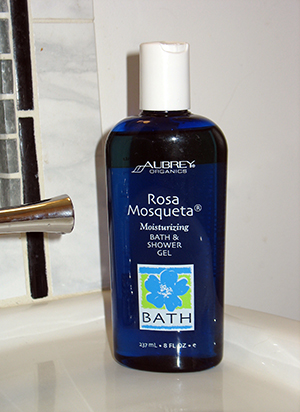 I tried using Aubrey® Organics Rosa Mosqueta® Bath & Shower Gel, but my cheeks developed a bit of red chapping in response. Plus I had concerns about the grapefruit seed preservative in it. Grapefruit seed extract may be contaminated by triclosan and methyl paraben or benzethonium chloride, unless it is processed properly.
I tried plain vegetable glycerin, the main ingredient in the Aubrey® Organics product, but it worsened the chapping on my skin.
I gave up for a while.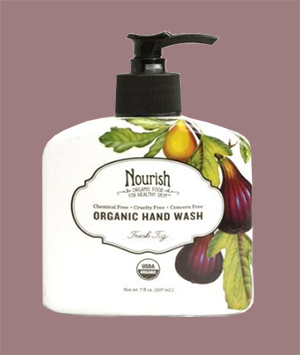 And then I found myself away from home during a family medical emergency. The hand soap in the house where I stayed ran out. I dashed to the local health food store and picked up a bottle of Nourish Organic Hand Wash. The ingredients looked good, but I didn't think more about it until after my family member in the hospital was out of danger.
My hands felt great and – since I'd been using it on my face – my face felt great too! This was what I'd been wanting for the last 2 years: a gentle cleanser for delicate skin that wasn't soap-based, that didn't dry my skin, that didn't irritate my skin, and that was made of safe ingredients.
Eureka!
I returned home exhausted and sick (in a minor, non-dangerous way) myself. Needless to say, I didn't go shopping right away. When I did, I couldn't find the Hand Wash, but the Body Wash seems to be the same stuff in a different dispenser. I'm happy!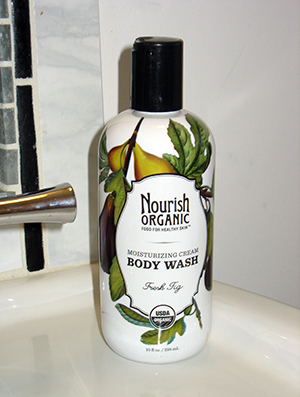 At this point, I've only been using Nourish for a few weeks. I'll report back in a few months to share how it holds up over the long haul. I'm hopeful! 😀
For more about safe and effective toiletries, see:
Hair Wash with Rhassoul Clay
Why Add a Lemon Rinse
Great Soap & Etcetera Quest
For more on green clean, read:
Green Housekeeping