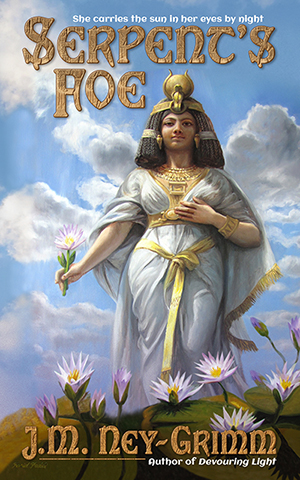 In the legendary duat – the mystical passage where the sun god Ra travels from west to east in the night, so that he rises again in the dawning – a lioness of ancient Egypt lies caged.
Once she stalked the duat by Ra's side, carrying his light in her eyes and battling the monsters that assailed them.
Now, tormented by confusion and her own fury, she longs to regain the unique powers which – inexplicably – elude her in captivity.
Even her own name slides out of her thoughts, while the how and why of her capture escape her memory entirely.
More than she realizes rides upon reclaiming her freedom and defeating her unknown captor.
In this mythic tale of pride and revelation, a fight beyond death delivers one last chance at redemption.
Serpent's Foe is available as an ebook.
Amazon I B&N I Inktera I iTunes I Kobo I OverDrive I Scribd I Smashwords I 24Symbols
Serpent's Foe is available as a trade paperback. Amazon I CreateSpace
"Serpent's Foe" is one of the twelve stories included in the anthology Quantum Zoo.

PRAISE FOR SERPENT'S FOE
"Beautifully written with lyrical prose and historical and mythological detail, "Serpent's Foe" is the story of the Egyptian goddess Bastet during a turbulent time in the ancient world, that of the invasion of the Sea Peoples known as the Hyksos. The story is told in a mythological, rather than a historical context, and I found it inspiring and uplifting and good for my nerdy soul. Thank you, J.M." – Goodreads review