Digital boxed sets offer themed collections of my novels at a bargain price. I have two such sets available.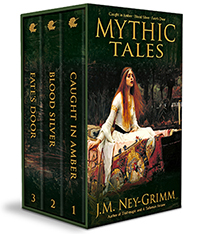 Mythic Tales Boxed Set
Fantasy mixed with history—rich, ancient, and vivid. Three novels:
Caught in Amber—a girl without memories tangles with twisted Roman gods.
Blood Silver—a faie knight seeks to protect the bright mortal world from his dark faie king.
Fate's Door—a sea nymph fights destiny to save her lover from shipwreck.
The boxed set Mythic Tales is available as an ebook:
Amazon I Apple I B&N I Kobo I Smashwords I Universal Link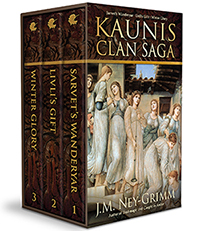 Kaunis Clan Saga Boxed Set
The mountain people of the North-lands wield a tribal magic born of dance, song, and the flow of sacred waters. Despite the beauty of the rites, their traditions underpin too many thou-shalt-nots.
In each story of the Kaunis Clan Saga, one woman—or one man—challenges the shibboleths that threaten her—or his—particular bright dream.
A 3-book boxed set: Sarvet's Wanderyar, Livli's Gift, Winter Glory.
The boxed set Kaunis Clan Saga is available as an ebook:
Amazon I Apple I B&N I Kobo I Smashwords I Universal Link