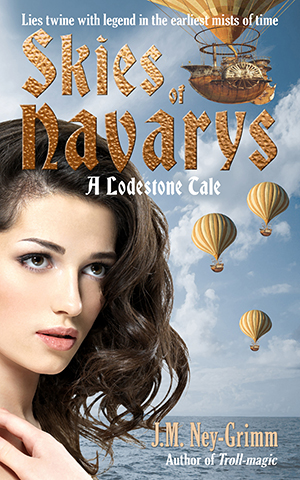 Two friends. Two opinions. One dilemma.
On fabled Navarys – the Atlantis of the North-lands – Liliyah studies energea as all thirteen-year-olds do, devoting her mornings to mastering the music that controls her magic. Afternoons, she hobnobs with the artisan crafters and shopkeepers who built the island city-state into the trade capital of the world.
Her friend Mago faces struggles unsuspected by carefree Liliyah. His father, a renowned inventor, succumbs to irrational flashes of rage. His mother holds a lethal secret close.
When the king's geomancer announces that a tidal wave threatens Navarys, every citizen on the island springs to action. Amidst the uproar, the aeromancer Palujon steals Mago's father's latest invention: unique lodestones with the potential to revolutionize life as the Navareans know it.
Mago vows to make good his father's loss. But Liliyah questions Palujon's motives. Why would a man of his stature break the law? Is he truly a dastard?
Two friends. Two answers. Life and death hang on their choices.
Skies of Navarys is available as an ebook.
Amazon I B&N I iTunes I Kobo I Smashwords
Skies of Navarys is available as a trade paperback.
Amazon I B&N I Book Depository I Fishpond I Mysterious Galaxy Books I Powell's Books
You may also order it from your local bookstore.
ISBN-10: 0615880320
ISBN-13: 978-0615880327

PRAISE FOR SKIES OF NAVARYS
". . . an imaginative science-fiction fantasy . . . well-written and interesting . . . The characters are realistic thirteen year olds with all their curiosity, doubts, amiability and daring in the face of adversity." – Goodreads review