When Sarvet's world hems her in, she pushes back. Her daughter, Livli, does likewise. The Kaunis-clan Onmibus, Sarvet & Livli, presents both their transcendent stories.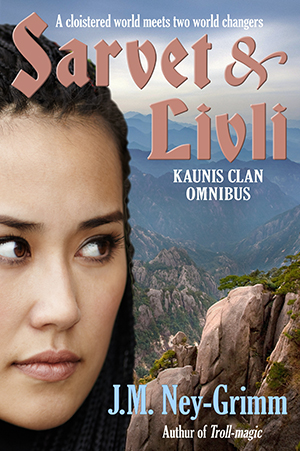 Sarvet's Wanderyar
Running away leads right back home – or does it?
Sarvet walks with a grinding limp, and her mountain culture keeps girls close to home. Worse, her mother emphasizes all the things Sarvet can't do. No matter how gutsy her spirit or bold her defiance, staying put means growing weaker. Yet only boys get wanderyars. Lacking their supplies and training, how can Sarvet escape?
Can dreams – even big dreams – and inner certainty transform impossible barricades into a way out?
Livli's Gift
In Kaunis-spa′s magical spring, Livli achieves spectacular cures. A born pioneer, she hopes to match new ways for healing with new ways of living. But the Kaunis-sisters fear rapid change. While Livli pushes forward the new, one influential foe pushes back. Home will keep its ancient customs, even if Livli loses everything.
Must surrender spell defeat? Or could letting go harness real power?
* * *
Sarvet & Livli is an omnibus containing both the novella Sarvet's Wanderyar
and the novel Livli's Gift in their entirety.
Sarvet & Livli is available as an ebook.
Amazon I B&N I iTunes I Kobo I Smashwords
Sarvet & Livli is available as a trade paperback.
Amazon I B&N I Book Depository I Fishpond I Mysterious Galaxy Books I Powell's Books
You may also order it from your local bookstore.
ISBN-10: 061588590X
ISBN-13: 978-0615885902

PRAISE FOR SARVET'S WANDERYAR
"…great introduction to the Hammarleeding's society that left me craving more. Sarvet is a wonderfully strong female character who you also meet again in Livli's Gift." – Amazon review
"…it's an entrancing story with a character you care about, and desperately want to succeed… At first I saw Paiam as the clear antagonist, but I came to sympathize with her. This makes for a complex interaction between the two characters that rages almost completely in the subtext–very clever on Ney-Grimm's part, and very effective… On a side note, one of my favourite things about Ney-Grimm's work is her treatment of fantastical creatures…the pegasi seem ethereal…creatures of light and gauze that are somehow the most real things in the world." – Speaking to the Eyes review
"J.M. Ney-Grimm has woven a beautiful, multi-layered tapestry… All the characters, human and otherwise, in her world are well-rounded and believable." – Barbara Karp, Readers' Favorite review

PRAISE FOR LIVLI'S GIFT
"Extremely fascinating and insightful…" – Amazon review
"I started reading and couldn't put it down. I love the world and the characters she has created." – Goodreads review
"I have never read a novel that made me feel so good. Mrs Ney-Grimm, you absolutely BLEW MY MIND! . . . It was so unique, so original . . . Usually I blast through the pages of a book that I love, but Livli's Gift made me want to go as slow as possible, absorbing every moment of bliss." – Goodreads review