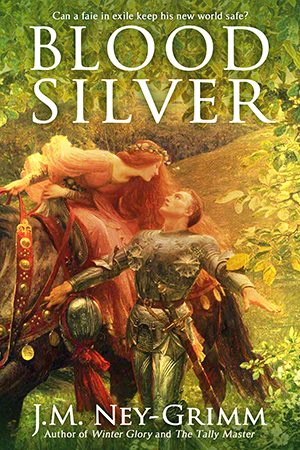 In a mythical Ireland that never was—an isle of turf and gorse-grown hillsides under a sky swept by mare's tails—mortal villages perch all unknowing beside enchanted knolls. Beneath them dwell the cruel and capricious faie folk.
Tahaern, a faie warrior by birth but not in spirit, eschews his vicious origins and hopes never to encounter his faie kin again.
Loving the bright world outside the faie deeps, he serves a mortal village as healer. Simple days and the love of his wife provide all he asks of life.
But when the faie declare war on the mortal king who protects Tahaern's village, Tahaern must again take up his sword to defend his neighbors, his beloved, and the realm.
Tahaern welcomes meeting faie warriors in battle, but tricks and cheats lie at the heart of faie tactics. And a snare set just for him lies waiting…
Blood Silver is available as an ebook.
Amazon I B&N I iTunes I Kobo I Smashwords I Universal Link
Blood Silver is available as a trade paperback.
Amazon I B&N I Fishpond I Mysterious Galaxy Books
PRAISE FOR BLOOD SILVER
"…a nice quick little read. Great characters, interesting story line, good pacing, and well written." —JMD

"…I couldn't put it down. It reminded me of Le Morte d'Arthur and Mists of Avalon even though it has nothing to do with the King Arthur legend. This author just brought back those feelings…" —Tricia Schiro

"…simple and thought-provoking in a beautiful way. …smart and wise. It's peaceful and otherworldly. I felt like a new fairy tale had been written and that gave me a lot of joy." —Ambrose Crotts

"The characters felt real, like they could step out of the pages…" —Stephanie Wachter

"It felt familiar like an old fairy tale, but was also very fresh and new." —Erin K.
Blood Silver, ebook: Amazon I B&N I iTunes I Kobo I Smashwords I Universal Link
Blood Silver, trade paperback: Amazon I B&N I Fishpond I Mysterious Galaxy Books