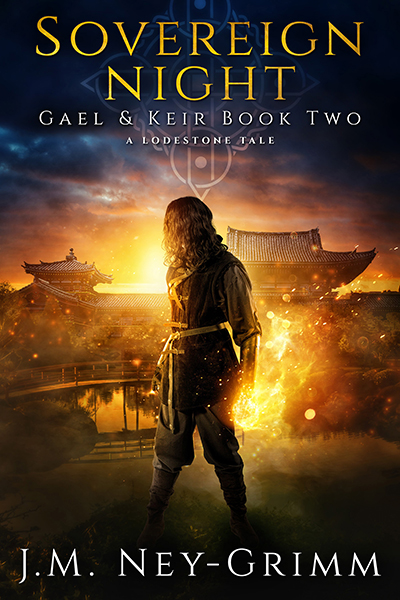 Something is very wrong in Hantida.
Reavers comb the streets and squares of the river city by night, crashing gauntleted fists on a residence gate or a workshop door, and taking . . . a child, a grandmother, or some sleeper who thought himself safe.
Always the reavers emerge from the imperial citadel at the city's heart and return to it before daybreak with their victim—just one.
Gael and Keir, newly arrived in Hantida on a quest for healing, confront the reavers when the bronze-mailed warriors come for a little girl with serious burns.
But more than mere violence lurks behind the abductions—a rotten core of secrets, intrigue, and conspiracy that Gael and Keir must penetrate while still holding true to their quest for healing magic.
Sovereign Night blends mystery with fantasy to tell a swift-paced tale of adventure in a vivid world of magic, shadows, and exotic peril.


Join Gael and Keir on their hunt for the lodestone…
Sovereign Night as an ebook: Amazon I B&N I iTunes I Kobo I OverDrive I Smashwords
Sovereign Night as a trade paperback: Amazon I B&N I Book Depository I Mysterious Galaxy Books