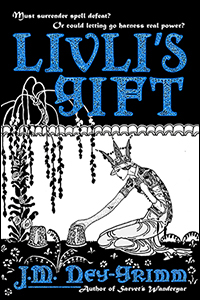 In Kaunis-spa′s magical spring, Livli achieves spectacular cures. A pioneer, she hopes to match new ways for healing with new ways of living. But the Kaunis-sisters fear rapid change. While Livli pushes forward the new, one influential foe pushes back. Home will keep its ancient customs, even if Livli loses everything. Must surrender spell defeat? Or could letting go harness real power?
A Kaunis Clan adventure of cultural conflict with personal stakes. Very personal stakes.
Livli's Gift is available as an ebook.
Amazon I B&N I iTunes I Kobo I Smashwords
Livli's Gift is available as a trade paperback.
Amazon I B&N I Mysterious Galaxy Books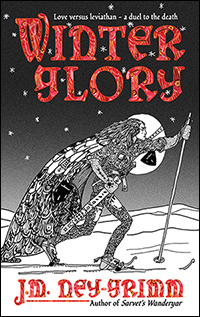 Caught in a cold and snow-shrouded wilderness, far from home, Ivvar confronts the woman he once cherished and an ancient scourge of the chilly woodlands in a complicated dance of love and death. Ivvar's second chance at happiness – and his life – hang in the balance.
A Kaunis Clan adventure featuring Livli's grandfather. With everything on the line.
Winter Glory is available as an ebook. Amazon
Winter Glory is available as a trade paperback.
Amazon I B&N I Mysterious Galaxy Books