North-land spellcasters who wield excessive power transform into trolls – potent, twisted, and hungry for dominance.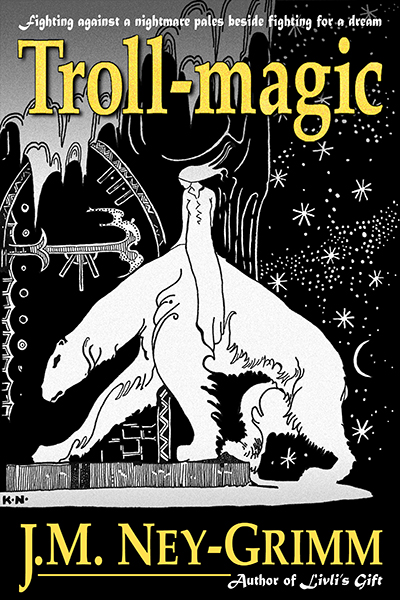 Prince Kellor, cursed by a troll-witch to live as a north-bear, wrestles with the challenges of a beast's form. He sees his childhood friend Elle as the key to his escape.
But charming Elle will be no easy task. Traversing that delicate passage between adolescence and adulthood, she struggles to balance family loyalty against her passion for music.
In this epic adventure across a stunning landscape, from cool pine forests to an icy pinnacle of basalt so real it leaves you shivering, Elle and Kellor must summon essential wisdom and grit to prevail against a troll-witch's malice in a lethal battle of wills.
Fighting against a nightmare pales beside fighting for a dream.
Troll-magic is available as an ebook in electronic bookstores.
Amazon.com I Amazon AU I Amazon CA I Amazon DE I Amazon ES I Amazon UK I B&N I iTunes I Kobo I Smashwords
Troll-magic is available as a trade paperback.
Amazon.com I Amazon UK I B&N I CreateSpace

PRAISE FOR TROLL-MAGIC
"…her writing style is unique and engrossing… There's a light and lilting tone to the prose… Troll-magic is a book to be savoured and enjoyed." – James J. Parsons, Speaking to the Eyes
"This is the kind of book that you keep thinking about… All through the day you will find yourself hoping for just a few minutes to pick it up again. Loosely based on a familiar folk tale, the world depicted is magical, but the people are very real." – Smashwords review
"Troll-magic was a fun read… This story mixes adventure, romance, life lessons and, of course, magic. J.M. Ney-Grimm has created a fascinating new world. Her detailed descriptions and colourful writing style bring the world of Silmaren and the Norse-lands right off the page and into life." – Amazon review
"I really liked this book. Anyone who is familiar with the fairy tale this book is based on will recognize the basic plot, but there are some intriguing twists added. The concept of troll-magic is well done… I am looking forward to reading other [stories] by this author." – Goodreads review
"Her work compares favorably with Robin McKinley and Patricia McKillip… if you're looking for an intelligent, fun and interesting read, I highly recommend this book." – Amazon review
Ebook
Amazon.com I Amazon AU I Amazon CA I Amazon DE I Amazon ES I Amazon UK I B&N I iTunes I Kobo I Smashwords
Paperback
Amazon.com I Amazon UK I B&N I CreateSpace