From a ghost park to a time-travel penitentiary of murderers to a menagerie of Egyptian deities, Quantum Zoo presents 12 compelling stories involving 12 very different living exhibitions. Including a wonderfully atmospheric tale by Hugo- and Nebula-nominated Bridget McKenna.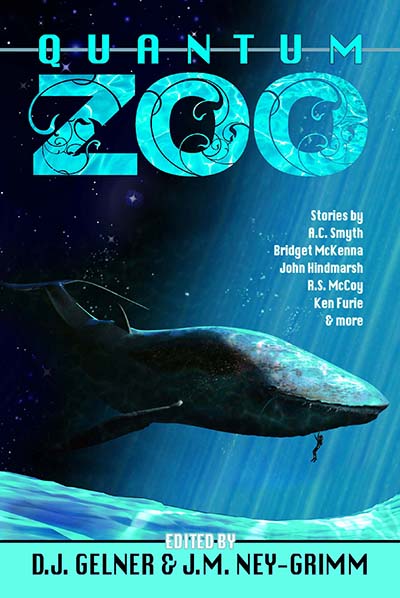 "Skipdrive" – Alien leviathans, discovered floating in space beyond the orbit of Neptune, provoke a "space race" between the competing nations of Earth. Maintenance Chief Eliza, half-cyborg and immune to the strange side effects of the skipdrive, suspects that the first ship on the scene – hers – just made a very big mistake.
"Demon Rising" – A monster lives under little Katherine's bed. She knows he means her no harm, but would anyone else agree?
"Playing Man" – Corporate executive Jordem Lun revisits Earth during his annual vacation. Maintained as a vast safari preserve, the old home planet displays gorgeous scenery and breathtaking wildlife, but something mysterious acts in its shadows.
"Serpent's Foe" – Bastet, divine protectress of Egypt's gods, lies defeated in a cage. Trapped in beast form, imprisoned behind bars, and confused by nightmares, she longs for freedom.
"Echoes of Earth" – Tentacle-laden aliens abduct family man Bill when he steps out for an evening jog. He awakens powerless, not in the pulp-classic alien embrace, but displayed in an interstellar zoo and tormented by the diverse alien species that pass through.
All these plus A.C. Smyth's "Ignoble Deeds," Ken Furie's "The Most Dangerous Lies," and more.
Visit 12 exotic worlds on a thrilling ride through Quantum Zoo. Get your ticket now!
Quantum Zoo is available as an ebook from:
Amazon.com I Amazon UK I Amazon DE I Amazon ES
For a limited time only, you can pick it up at the special introductory price of $0.99! What are you waiting for?

READY FOR LAUNCH?

READER PRAISE FOR QUANTUM ZOO AUTHORS
Morgan Johnson writes a "fast, fierce and gritty cyberpunk space lovecraftian tale. Seamlessly honed to a wicked point."
"Definitely a page turner, exciting, funny, and heart-wrenching at the same time. Gelner 'knocked it out of the park'!"
"Furie has an eye for witty detail that keeps you turning the pages. More, please!"
"A.C. Smyth has written a gripping, captivating page-turner… Sylas owns my heart, and his journey alternately makes me want to laugh, cry, smack him upside his stubborn head, scream, and most of all, keep reading!"
"McKenna's subtle style and deft handling are practically textbook perfect for short form fiction."
Stegall "clearly loves two things: historical research and San Francisco. I'm not sure if I learned more about San Francisco or Wyatt Earp, but I had a great time in the process."
"Batt has done it again. This story is just unfairly funny. I couldn't stop laughing, which got me plenty of odd looks in public, I'll tell you…"
"…always fun to discover a new, talented author, and Scott Dyson is my latest find."
"A brilliant new fantasy concept, intelligent writing… [McCoy's] innate story-telling ability combined to produce a tale that I could not get enough of."
Ney-Grimm "has an ethereal sort of quality to her writing…it's almost mystical…absolutely unique, and absolutely engaging."
"Damn you John Hindmarsh – I am on vacation in Turkey and am waking up late every day because I start reading this book in the evening and can't put it down until 2:30AM!"
Here are those links again!


Amazon.com I Amazon UK I Amazon DE I Amazon ES