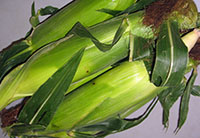 The first corn of summer arrived in my kitchen last week.
Half of it I simply cooked and served, slathered in butter, to my family. The other half I made into corn relish.
I promised last August that I'd share the corn relish recipe with you when corn was in season again. Time to make good on my promise!
Corn relish is a lacto-fermented food. The same lacto-bacilli that turn milk into yogurt also turn corn and a few other vegetables into corn relish.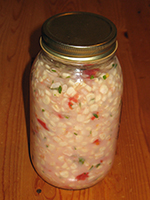 There are several benefits to this.
For me personally, it means I can eat corn! Cooked in any ordinary way, corn makes me really ill. Lacto-fermented corn bothers my system not in the least.
Of course, most people can eat corn without my difficulty, but lacto-fermented corn offers everyone the great benefits of any lacto-fermented food.
The process of lacto-fermentation creates valuable enzymes which add to the health of the entire gastro-intestinal tract. We digest our food more thoroughly and easily, and receive more of its nutrition, when we eat enzymes.
Lacto-fermentation also creates pro-biotics. You know how your doctor recommends eating yogurt after a course of anti-biotics? Well, eating lacto-fermented vegetables does the same thing, repopulating the intestine with the beneficial bacteria that must be present in order for humans to be healthy!
And lacto-fermentation makes the vitamins and minerals in our foods more bio-available, so that our bodies absorb more of these vital substances, instead of letting them merely pass through and out.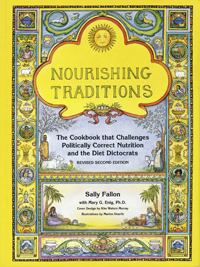 I learned about lacto-fermantation in Sally Fallon's book, Nourishing Traditions. It's an incredible treasury of the old food ways, and I encourage you to check it out for yourself! One caution: whenever you eat foods new to you, it's wise to go slow. Your body isn't used to the new substance. Eat just a spoonful or two and wait. Everyone's body is a little different. Check to make sure yours is okay with something new before you eat a large serving!
For more information about lacto-fermented foods, check here and here.
And now, without more ado, here's the recipe. (P.S. It's delicious!)
Corn Relish
3 large ears of fresh organic corn
1 small onion (or a quarter of a large one)
3 tomatoes or 3 peaches
2 tablespoons fresh cilantro leaves (optional)
1 tablespoon Celtic sea salt
4 tablespoons whey
It's important to use organic vegetables, because pesticide residues on conventional produce can halt the process of lacto-fermentation.
Also, do not use ordinary table salt. The anti-caking chemicals in it can likewise interfere with lacto-fermentation.
I obtain whey by allowing raw milk (from my herd share in a local dairy farm) to become old-fashioned curds and whey! But you can get it from draining the liquid – whey – from any yogurt with active cultures.
Last summer I made corn relish with tomatoes. It tasted marvelous. Last week, I had no tomatoes on hand, and I substituted peaches for them. This corn relish tastes very similar. The lacto-fermented corn and onions are somewhat spicy and dominant. If you have neither tomatoes nor peaches on hand, I encourage you to experiment. I suspect other substitutions might work equally well.
The first step is shucking the corn of its husks and rinsing the threads that cling to the corn away under running water. You may notice that the very tip of the corn is slightly brown. This is a good thing! It's a bonafide that the corn really is organic. The browning is from a type of pest that loves corn, but is kept away by pesticides. Just cut the brown tip off and discard it.
Next, cut the corn kernels from the cob into a large bowl.
Wash the peaches, remove their pits, and dice the flesh. Add to the mix. (Or peel the tomatoes, dice them, and add them to the mix. The best way to peel tomatoes: immerse them in boiling water for 60 seconds, then in cold water. The skins will slip right off.)
Dice the onion very fine. Add to mixture.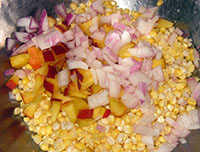 Pluck the cilantro leaves from their stems, if you are using cilantro, and add.
Add sea salt and whey. Stir the mixture with a spoon. Then pound it lightly with a wooden mallet or a meat pounder.
Spoon the mixture into a 1-quart canning jar. (Be sure you have put the jar and its lid through the hottest cycle of your dishwasher, or else fill the jar with boiling water and let it sit for 5 minutes before pouring it out. And immerse the lid in boiling water as well. You want the lacto-bacilli to grow, not any pathogenic bacteria!)
Leave at least 1 inch of headroom between the top of the corn mixture and the lip of the jar. Pres the mixture down firmly, so that the whey and the vegetable juices cover the corn mixture. If there is not enough liquid for this, add a little filtered water or more whey. Screw the lid on to finger tight.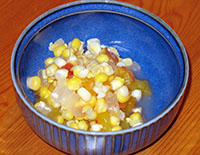 Let the jar sit on your counter at room temperature for 3 days. This is when it lacto-ferments. After 3 days, refrigerate the corn relish. It is ready to eat now and will keep in the refrigerator for many months.
More recipes:
Sauerkraut
Coconut Salmon
Baked Carrots
Baked Apples
More on nutrition:
Test first, then conclude!
Why Seed Oils Are Dangerous
Butter and Cream and Coconut, Oh My!