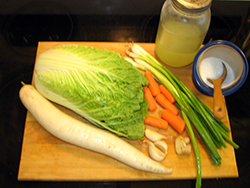 Ever since I stumbled on the recipe for lacto-fermented kimchi in Nourishing Traditions, I've wanted to make it.
But I figured I should try basic sauerkraut first. And then lacto-fermented carrots seemed like a more accessible taste-treat. Next I went on a beet kvass tear. And then I stayed within that safe, known perimeter until I drifted away from a regular schedule of lacto-fermentation.
But now I'm intent on always having a selection of lacto-fermented foods on hand.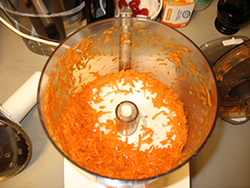 So I tackled a mild version of kimchi!
Here's the recipe:
Kimchi (Korean Sauerkraut)
1 head Napa cabbage, cored and shredded
1 bunch green onions, chopped
1 cup carrots, grated
1 daikon radish, grated
1 tablespoon fresh ginger, minced
3 cloves garlic

1/2 teaspoon red pepper flakes (optional)
1 tablespoon sea salt
4 tablespoons whey
1 • Remove the core of the cabbage and discard. Shred the cabbage leaves.
I discovered I preferred European sauerkraut when shredded by putting it through the grating mechanism of my food processor. But I decided to try slicing the cabbage narrowly for kimchi. I'll see what I think of that before I try something different.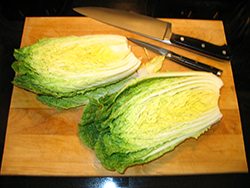 2 • Chop the green onions. Peel and mince the ginger. Put the garlic through a garlic press.
3 • Grate the carrots and daikon radish by putting them through the grating mechanism of the food processor.
4 • Put all the ingredients in a bowl and knead them as you might knead bread dough.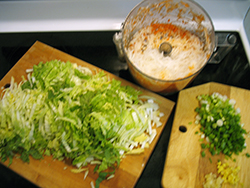 All the recipes I'd seen directed me to pound the mixture, and that is how I'd prepared European sauerkraut. I found it took what seemed like forever, and I was always wondering if I'd pounded it enough.
Recently I saw another recipe which recommended the kneading method. I liked that much better. It was easy, much faster, and I could tell when the whole batch was sufficiently kneaded—that there weren't lingering bits in the middle that remained hard.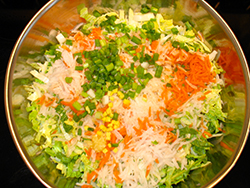 5 • Place the mixture in two quart-sized, wide-mouth canning jars. Press it down well, until the juices rise enough to cover the vegetables. Place fermentation weights atop to keep the vegetables submerged.
I possessed no fermentation weights when I first tried lacto-fermenting cabbage. I didn't even know there was such a thing. And all of my batches turned out fine. But now that I do know, I'm using them. Why risk having to throw out a batch?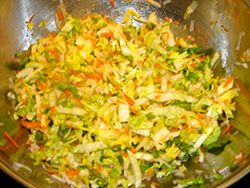 6 • Twist the lids on the canning jars to finger tight. Keep at room temperature (but out of sunlight) for 3 days. Then store in the refrigerator (or a root cellar).
When I was making European sauerkraut, the flavors needed about 6 weeks to develop. The sauerkraut just tasted bland before then. But by 6 weeks, it was delish!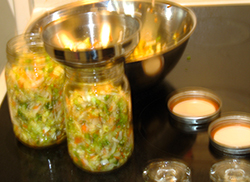 I expect the same to be true of my kimchi. I omitted the optional red pepper flakes, because I want flavor, not heat. The nibble I tasted when I put my jars in the fridge did taste bland. But sometime in October, I'll be in for a treat.
I'll post a note here to let you know if it's as good as I think it will be. 😀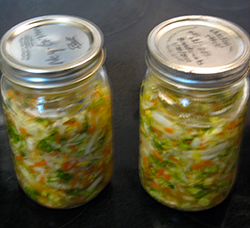 For more lacto-fermented recipes, see:
Lacto-fermented Sauerkraut
Lacto-fermented Corn
Pickled Greens
Beet Kvass