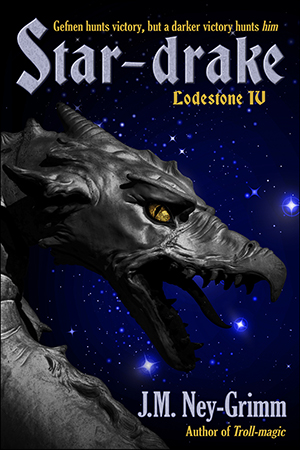 Gefnen – troll-herald and hound for Koschey the Deathless – hunts life across the moors of the far north.
Not deer, not pheasant, not meat for the table. His master eats choicer fruits.
When the piercing scent of youth tingles his senses, Gefnen focuses his chase. The prey – a boy – lacks guardians strong enough to best a troll. Swift triumph awaits.
But other seekers tilt the chances of this game. Spirit of storm, poignant memories of a sea-prince, and something more ancient than memory or the wind shape the looming tumult.
Gefnen hunts victory, but a darker victory hunts him.
Star-drake is available as an ebook.
Amazon I B&N I iTunes I Kobo I Smashwords
Star-drake is also available as a paperback.
Amazon I CreateSpace
"Star-drake" is one of the seven stories included in the collection A Knot of Trolls.

PRAISE FOR STAR-DRAKE AND RAINBOW'S LODESTONE
"…almost "Tolkienesque"…the stories feel like they're happening on the Earth we know, but long before our recorded history… [Star-drake] has a deep sense of importance to it, of destiny…written very much in a storyteller's fashion, you can imagine it being told around a campfire in the snows of the North, but it has a satisfying sort of weight… All in all, these are wonderful stories… Ney-Grimm's unique blend of Nordic fantasy and fairy tale mentality is a refreshing take on the genre." – James J. Parsons, Speaking to the Eyes