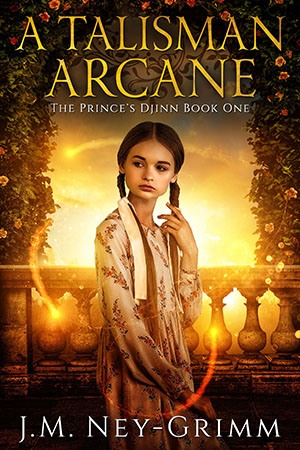 The mansion on Balard Square stands empty. Dirt grimes its marble columns. Cracks mar its once pristine walls. No one enters or exits.
Rumor says no one lives there. Neighbors ignore the property, glad it's merely shabby, not derelict. Brash youths pretend a witch makes it her home, a wicked witch who hates children.
All of them—rumor, neighbors, and youths—are wrong.
Fleeing a ragged horde of boys, young Lealle discovers the truth of the history-haunted house.
She hopes to keep that truth secret.
But her silence threatens disapproving neighbors, trespassing bullies, and one gentle soul in desperate need of a lifeline.
Magic and coming of age in the tradition of Patricia C. Wrede's Mairelon the Magician.
A Talisman Arcane is available as an ebook. Amazon
A Talisman Arcane is available as a paperback. Amazon I Fishpond I Mysterious Galaxy

PRAISE FOR A TALISMAN ARCANE
"Great book about an unlikely friendship…" —Karen B
"…a richly detailed world populated by interesting people dealing with realistic problems in refreshingly original ways. …Fans of Patricia Wrede, Honor Raconteur, Jane Yolen and Megan Whalen Turner will enjoy this book." —AA Lee
"…I really loved this book. I found it hard to put down…and when I did put it down I was often thinking about the characters and what was last going on…when I'd stopped. The characters were all well developed, with strong personalities and backgrounds." —Dragonessa
"…great plot and great cast of characters. Lealle, the lead, is perfectly crafted…" —Mysterious Amazon Customer
"…so well written and contained so many interesting little ideas and gems of sentences. …Really worth your time if you like an engrossing coming of age tale mixed with magic and psychology." —Chris
"…loved reading this heart warming book." —Becky B
A Talisman Arcane as an ebook: Amazon
A Talisman Arcane as a paperback: Amazon I Fishpond I Mysterious Galaxy