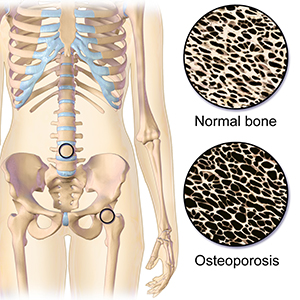 Five years ago, I was diagnosed with osteopenia. The literal translation is "bone deficiency," and the diagnosis meant that my bones had lost mineral density, making them weaker and more prone to breakage than optimally mineralized bones.
This was not a good development, but few doctors prescribe medicines to prevent further bone loss at this stage of things. Instead, they instruct the patient to get plenty of weight-bearing exercise and to be tested again in 2 to 5 years. The hope is that the osteopenia will not worsen to become osteoporosis.
When my bone density was assessed a year ago, that hope was not realized. My bones had lost more density, arriving at the threshold (just barely) that marks true osteoporosis, literally "porous bones." My doctor prescribed Fosamax, instructing me that I would need to remain vertical for 2 hours after I ingested the medicine in order to prevent heartburn.
I filled the prescription and only then realized I had a problem. I was dealing with a chronic pain issue that kept me lying down the majority of the time. I was going to find it tough to find 2 hours when I would be upright continuously.
In fact, I never did find them. I beat my chronic pain last December, only temporarily, alas. It crept back during my battle with my retinal tear. Not nearly as severely as before. I am able to be active now. I swim 400 meters three times a week. I could take the Fosmax. But the thing is that I want to build bone density, not merely slow further bone loss. The Fosamax won't do that. But there is one thing that will:
Weight-bearing exercise.
But not mild weight-bearing exercise. I needed strenuous weight-bearing exercise. And preferably exercise that utilizes the whole body, rather than working muscles in isolation. Which meant I needed bodyweight training.
Bodyweight training would improve my coordination and balance by engaging groups of large muscles all at once, together with small stabilizing muscles. Plus it would work my heart muscle, because engaging many muscles requires much more aerobic support than engaging just a few.
I liked the idea that if I were to trip and fall, not only would my bones be stronger and less likely to break, but also that my muscles would be stronger and more capabale of catching me before I hit the ground, and my coordination would be better, giving me a chance to prevent the fall altogether.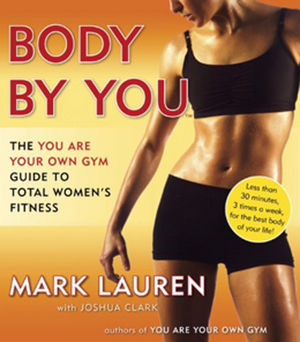 So I went looking for guidance in books. Quite a few praise bodyweight training, but give only the most cursory descriptions of how to do specific exercises. I wanted detailed instructions. I found what I was looking for – and more – in Body by You by Mark Lauren. Lauren is an expert, who has trained thousands to good effect. His book provides the detailed instructions I sought, as well as step-by-step progressions for moving from the beginner versions to more challenging exercises and on to the most challenging of all.
I've just started, a mere 19 days ago, and I'm very de-conditioned from all the medical issues that have derailed me over the past few years. So I'm starting with the absolute easiest beginner exercises. But I can already feel a difference, so I'm hopeful that I will improve steadily, if slowly.
Lauren categorizes his exercises into five different types: pulling, in-line pushing (parallel to your spine), perpendicular pushing (perpendicular to your spine), squatting, and bending.
The easiest pulling exercise in the book is called a "let me in." It works the muscles of the back (lats, spinal erectors, rhomboids), arms and shoulders (biceps, forearms, rear deltoids), and the core. Laren demonstrates the "let me in" in the video below using a door, but I would recommend against a door as your prop. Most doors are not made for this kind of abuse. Over time, you'll destroy your door and be hurt when it fails altogether.
I use one of the metal support pillars in my basement, sunk into concrete at its base and bolted into a major floor joist at its top.
My husband cautions that not all such support pillars are fastened at their tops, and he has seen them slip. If you try this, check your support pillar to be sure it is secured, not just held in place by the weight of the house.
The easiest in-line pushing exercise is the military press with hands elevated to hip height. It targets your shoulders, triceps, and core. I use the chest freezer in my basement. It's currently full of frozen meat and really heavy. It's not going anywhere, even when I lean hard on it. 😀
The easiest perpendicular pushing exercise is the classic wall push-up. It works the chest, triceps, shoulders, and the core, especially the abdominals. The key for me is to find a stretch of wall clear of bookshelves and wide enough that my elbows don't bump into anything. 😀
Lauren structures his workout so that you alternate between in-line pushing and perpendicular pushing. So, today being a Friday, I'll shortly be doing "pull me ins," wall push-ups, "good morning" bends, and squats. But on Monday, I'll do "pull me ins," military presses, "good morning" bends, and squats.
Bending exercises work the legs, glutes, back, core, and – depending on the specific exercise – the shoulder and triceps too. The easiest bending exercise is called the "good morning." It is almost too easy for me, so I suspect I'll be moving up to the version with the hands held straight overhead soon.
Squats exercise the glutes, quads, hamstrings, lower back, core, and calves. The very easiest squat is the "therapy sumo squat," done with the toes and knees turned outward at a 45º angle. That doesn't work for me, because it trashes my hip joints. So I am doing a basic squat with my toes and knees facing forward. I've not yet advanced to the hands overhead version shown below!
I'm pleased with how the bodyweight training feels so far. I'm making progress, and I haven't yet injured myself! Always a concern. 😀
As I advance – crossing my fingers that I will – I'll look for videos of the modified exercises to share with you.
Time to go exercise now! (I spent most of today writing the current scene of Tally and composing this blog post!)