My nutritional education began under the aegis of my mother. Judged against the backdrop of the sixties, she was a pioneer, actively pursuing the benefits of serving whole grain breads, breastfeeding her babies, eating multiple servings of raw vegetables, and curtailing sugar intake. Compared to Wonder® bread, bottle feeding, miniscule portions of frozen corn-carrots-peas mix, and dessert every night after dinner, her choices represented a miracle of enlightenment. (Yay, Mom! Thank you!)
But she was also influenced by her time. Who isn′t? She gave up butter for margarine. (Transfats, anyone?) She remained unaware of the dangers of improperly prepared grains (those unfermented or unsprouted). She drifted toward a high-carb, low-fat diet. (As an adult, I did, too.)
So my own nutritional knowledge had a better foundation than that of my contemporaries, but it also featured serious deficits.
My first inkling that I′d gone astray arrived gradually and confusingly as health issues. It seemed there were more and more foods I could not eat without feeling really ill in the hours after my meal. Doctors had no real answers, other than telling me to keep a food diary. I did this, and the list of DO-NOT-EAT grew and grew. It was discouraging and inconvenient. I felt ill too often. And when my friends invited me over for dinner, they faced a Herculean task, if they wanted me to actually eat the foods they′d prepared.
Then I met a local dairywoman with a small family farm. She clued me into the fact that conventional dairy cows receive a soy-based feed. The soy proteins come through in their milk. Maybe it wasn′t cow milk that made me sick after all! Maybe it was the soy proteins.
Kathryn also knew that soy is added as filler to many foods, and not only the obvious candidates such as canned soup. It′s in canned tunafish. It′s in pizza (the tomato sauce and the cheese). It′s in conventional roast chicken, injected under the skin to add moisture to the breast meat. If you have trouble digesting soy . . . watch out! It′s a soy world out there.
I grew vigilant in detecting (and avoiding) soy. My health problems cleared up. Wow! I was thrilled.
But Kathryn had more to teach me. She recommended the book Pasture Perfect (which I shared with you a few weeks ago, here). That was the start of the real revolution in my thinking. Obviously there were a lot of things my mother never told me. And, like most of us, I′d been listening to the media and the mainstream medical establishment about what was healthy to eat and what was not. (Doctors are not taught nutrition, by the way. They′re reading the same newspapers and magazines as their patients!)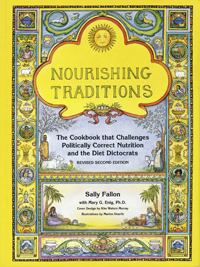 The next book featured in my continuing education was a doozie: Nourishing Traditions by Sally Fallon and Mary G. Enig. Kathryn followed its precepts, but never recommended it to me. I suspect she thought it would be too challenging for my PC thinking! She didn′t know me well enough to realize that the sheer novelty of the concepts (novel to me, millenia-old to humankind) would ignite my curiosity.
The tale of how I discovered that Nourishing Traditions held an honored place on Kathryn′s shelves is convoluted enough (and rather beside the point) that I won′t spend the paragraphs to recount it. Suffice it to say, I did discover the book, checked it out from the library, and was blown away by its contents. It′s a cookbook with hundreds of recipes, but it′s also a nutritional manual, packed with the wisdom accumulated by traditional peoples over the ages. Their food ways kept them healthy and strong, generation after generation, before doctors and medical science achieved modern power.
Nourishing Traditions is so dense with amazing information, my customary sharing of ″3 cool things″ not only can′t do it justice, but risks serious misrepresentation. I′ll be sharing 3 cool things from the first chapter today. (With more chapters following at intervals across the next half year.)
The Ancient Art of Culturing Milk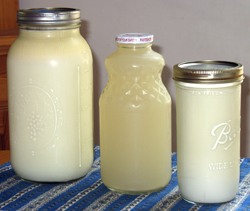 Drinking unfermented milk from dairy animals is a new and modern development. Without pasteurization and refrigeration, milk sours and separates quickly. Before the age of industry, traditional people harnessed this property for their advantage. During the process of lacto-fermentation, friendly bacteria that produce lactic acid (think yogurt) break down both milk sugar (lactose) and milk protein (casein). Over time, they produce enough lactic acid to inactivate all putrefying bacteria. The milk reaches a state in which it is safely preserved for days or even weeks. (Longer for cheeses.)
Different cultures had different methods and produced different end products. Europeans once consumed clabber and curds and whey, as well as the more familiar yogurt and cheese. In Russia, one found kefir and koumiss. In Scandinavia, there were longfil and kjaeldermelk. In the Middle East: laban. India: dahi. France: crème fraîche (still popular). Germany: cultured butter. All over the globe, shaped by their unique climate, terrain, and history, traditional people cultured milk. It′s a practice worth reviving more fully today.
Fight Osteoporosis and Lactose Intolerance
The fermenting of milk creates many benefits. Casein, the milk protein, is one of the most difficult to digest. Breaking it down via fermentation renders it digestible. Culturing also restores or multiplies the helpful enzymes in milk. One of them, lactase, aids the digestion of lactose (milk sugar). Other enzymes help the body absorb calcium and other minerals. Plus vitamins B and C both increase during fermentation. A ″witch′s brew″ of fermented milk is significantly more nutritious than the basic, conventional white stuff!
Viruses & Germs, Take That!
Most of us know that eating yogurt after a round of antibiotics restores the proper functioning of the gut. What I didn′t understand was that the benefits of healthy gut fauna are both more essential and more comprehensive than bouncing back from a sinus infection.
Friendly lacto-bacilli and the lactic acid they produce are just as much a part of moving nutrients from our food into our bodies′ cells as the actual structures and organs of digestion: mouth, stomach, pancreas, etc. Could we assimilate our food well without our intestines? Well, the friendly bacteria are just as necessary. In addition, these friendly bacteria keep unfriendly intruders at bay. There′s a reason traditional peoples fed fermented milk to the sick, the aged, and to nursing mothers. These vulnerable individuals needed all the bolstering they could get.
Strong bones, fewer stomach aches, more complete transfer of nutrients, less illness. What′s not to like?!
* * *
The chapter on cultured dairy products continues with recipes for piima, buttermilk, crème fraîche, kefir, and other tasty comestibles along with the foundational whey needed by the cook to make many of the dishes featured in later chapters. Margin notes provide vignettes into the kitchens of traditional peoples and the wonders they worked there. It′s an intriguing read, but it also turned many of my own mistaken notions upside down.
Education, entertainment, and health-saving practice all in one package. I couldn′t resist, and I′m glad I didn′t.
Nourishing Traditions at Amazon
For more Nourishing Traditions posts, see:
Amazing Lactobacilli
Handle with Care
Beet Kvass
For more on books important to continuing nutritional education, see:
Thinner and Healthier
Test first, then conclude!
Butter and Cream and Coconut, Oh My!
Why Seed Oils Are Dangerous