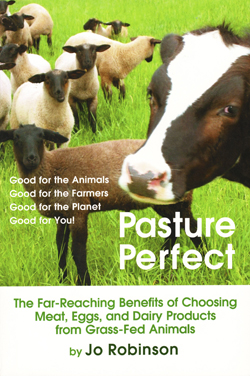 Jo Robinson's Pasture Perfect is an accessible, entertaining introduction to the concepts underpinning "grassfarming." She starts with an amusing anecdote from her first talk given in front of 500 ranchers. At the close of her presentation, before the questions, she announced that she'd put together a little book titled Why Grassfed Is Best! (the precursor to Pasture Perfect). The auditorium emptied rapidly. She carried on, answering questions gamely, and wondering. Did her audience want to be first in line at the buffet dinner? Nope.
There'd been a stampede on the table where her little book was stacked for sale. Literally. Impatient with a line of 50-plus, ranchers began grabbing books, tossing their money down, making their own change. They were that eager for her information. And she'd not brought enough books!
Ms. Robinson takes us on a tour of a pasture-based farm. The air smells of grass and green. A ring of habitat for wildlife encircles the fields. The grass is lush and mixed with clover, alfalfa, and wild plants. The cattle are peaceful, moving slowly within their generous enclosure. Chickens share the paddock. It's a pleasant spot, nourishing to the animals, welcoming to humans.
Then the author gets down to the nitty gritty: the health benefits of grass-fed meats.
Less fat. Animals eating grain get fat. Grass-fed meat has the same amount of fat as wild game or chicken breast without skin.
Fewer calories. If you eat a 6-ounce beef loin from a grass-fed cow, you'll consume 92 fewer calories than if you eat one from a feedlot cow. That adds up over time.
More omega-3's. People low on omega-3's are more vulnerable to cancer, depression, obesity, diabetes, arthritis, asthma, and dementia. Grass-fed meats have 2 to 10 times more omega-3's than feedlot meats.
Omega-3's and omega-6's in balance. Both these fatty acids are essential, but we need the right blend. Omega-6's encourage blood to clot. Omega-3's cause it to flow easily and smoothly. What's the right ratio of 6's to 3's? There's some debate about it. Probably no more than 4:1, possibly as low as 1:1. Grass-fed beef has ratios between 1:1 and 3:1. Feedlot beef ranges from 5:1 to 14:1. 'Nuff said!
Conjugated linoleic acid (CLA). The research is preliminary, but CLA may help us resist cancer and heart disease. Grass-fed ruminants have 2 to 5 times as much CLA in their meat as feedlot ruminants.
Vitamin E. It's an important anti-oxidant, protecting us from free radicals, boosting immunity, preventing heart disease. Grass-fed beef has 3 to 6 times more than feedlot beef.
Carotenoids. Fresh pasture provides hundreds of times more of these anti-oxidants than does feedlot mush, with the result that beta carotene and other carotenoids show up in quantity in grass-fed meat. The benefits of eating carotenoids include lower risk of cataracts and macular degeneration (a leading cause of blindness).
Ms. Robinson also gives us the scoop on milk and eggs.
The milk from grazing cows has 5 times the CLA of conventionally fed dairy cows. The ratio of omega-6's to omega-3's is 1:1. The levels of beta carotene, vitamin A, and vitamin E are all much higher.
The eggs from pasture-raised chickens (who eat grass, wild greens, and insects) show similar benefits. A ratio of 6's to 3's of 1:1, instead of 20:1. More vitamin A. But you don't need a chemistry set to analyze the health of an egg. Conventional eggs have lemony pale yolks, while those from pastured hens show a deep, orangey yellow.
Best of all: pastured meat, milk, and eggs just taste better. The New York Times food editors reported free-range poultry as "flavorful and juicy" and that it "had a tender but meaty texture."
Corby Krummer in The Atlantic Monthly said, "Grass-fed beef tastes better than corn-fed beef; meatier, purer, far less fatty."
And Sam Guigino in Wine Spectator declares a grass-based strip steak "delicious, rich and full-flavored."
The last chapter in Pasture Perfect tells us how and where to acquire these healthy and delicious pasture-raised foods. And 60 pages of recipes cap things off.
This was a life-changer for me. The nutritional differences between feedlot meat and grass-fed meat are not trivial. Good health versus poor may well lie in the balance. I had already connected with a local dairy farmer. I wanted nourishing milk for my 2-year-old twins! Now it was time to locate healthy meat and healthy eggs.
I'm lucky, because Virginia has a long tradition of family farms. My region is a focal point for the growing movement toward local food. Once I opened my eyes, there were dozens of neighboring farms that could supply my table. Like some of the people quoted in Pasture Perfect, I'm a bit spoiled now. Conventionally raised just doesn't taste right!
For more about nutrition, see:
Test first, then conclude!
Yogurt & Kefir & Koumiss, Oh My!
For more on green living, see:
Permaculture Gardening
Running Mushrooms
Going Up in Smoke?