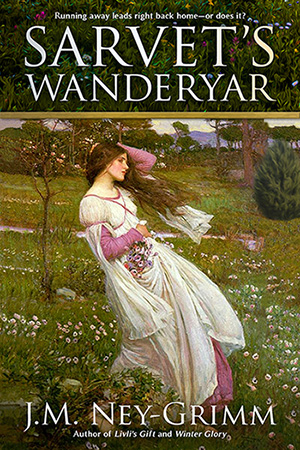 Running away leads right back home—or does it?
Sarvet walks with a grinding limp, and her mountain culture keeps girls close to home. Worse, her mother emphasizes all the things Sarvet can't do.
No matter how gutsy her spirit or bold her defiance, staying put means growing weaker. But only boys get wanderyars. Lacking their supplies and training, how can Sarvet escape?
Can dreams—even big dreams—and inner certainty transform impossible barricades into a way out?

Sarvet's Wanderyar is available as an ebook.
Amazon I B&N I iTunes I Kobo I Smashwords
Sarvet's Wanderyar is available as a trade paperback.
Amazon I B&N I Book Depository I Fishpond I Mysterious Galaxy Books I Powell's Books
You may also order it from your local bookstore.
ISBN-10: 0615743099
ISBN-13: 978-0615743097

PRAISE FOR SARVET'S WANDERYAR
"…great introduction to the Hammarleeding's society that left me craving more. Sarvet is a wonderfully strong female character who you also meet again in Livli's Gift." — Amazon review
"…it's an entrancing story with a character you care about, and desperately want to succeed… At first I saw Paiam as the clear antagonist, but I came to sympathize with her. This makes for a complex interaction between the two characters that rages almost completely in the subtext–very clever on Ney-Grimm's part, and very effective… On a side note, one of my favourite things about Ney-Grimm's work is her treatment of fantastical creatures…the pegasi seem ethereal…creatures of light and gauze that are somehow the most real things in the world." — Speaking to the Eyes review
"J.M. Ney-Grimm has woven a beautiful, multi-layered tapestry… All the characters, human and otherwise, in her world are well-rounded and believable." — Barbara Karp, Readers' Favorite review

EXCERPT FROM SARVET'S WANDERYAR
Tense and furious, Sarvet shook her mother's angry grip from her forearm. "I'll petition the lodge-meet for filial severance," she snapped, and then wished she'd swallowed the words, so hateful, too hateful to speak. And yet she'd spoken them.
The breeze swirling on the mountain slope picked up, nudging the springy branches of the three great pines at Sarvet's back and purring among their needles. Their scent infused the moving air.
Paiam's narrowed eyes widened an instant—in hurt?—flicked up to encompass the swaying tree tops behind her daughter, then went flat.
"You dare!" she breathed. "You're my daughter. Mine alone. And I'll see to it that you and every other mother in the lodge knows it too. You'll stay under my aegis till you're grown, young sister, even if I must declare you careless and remiss to do it!"
Oh!
Sarvet only thought she'd been mad before. "You never wanted me!" she accused.
Was it true? Or was she just aiming for Paiam's greatest vulnerability, aiming to hurt? Because under her own rage lay . . . desperation. Something needed to change. She just didn't know what, didn't know how. And didn't want to be facing it right now, facing her mother right now.
* * *
Sarvet's Wanderyar as an ebook:
Amazon I B&N I iTunes I Kobo I Smashwords
Sarvet's Wanderyar as a trade paperback:
Amazon I B&N I Book Depository I Fishpond I Mysterious Galaxy Books I Powell's Books