I want to tell you about beet kvass!
Beet kvass is my favorite drink, savory and flavorful, yet refreshing. Plus it's good for you. I can't believe it's taken me so long to get around to this.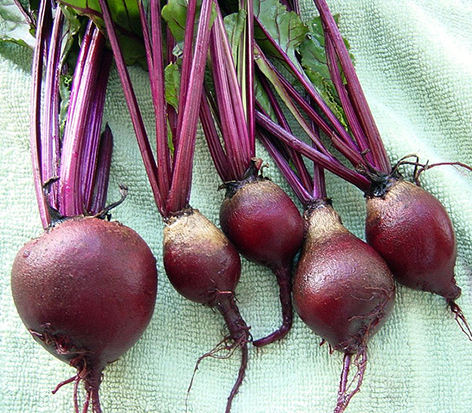 Before I zero in on beet kvass specifically, let's consider lacto-fermented beverages generally. Lacto-fermented beverages use whey in their making, just as yogurt does, and have many of the same benefits.
Lacto-fermentation creates valuable enzymes that add to the health of the entire gastro-intestinal tract. We digest our food more thoroughly and easily – and receive more of its nutrition – when we eat enzymes.
Lacto-fermentation creates pro-biotics. Just as eating yogurt after a course of anti-biotics helps restore the natural and beneficial bacteria needed in the intestine, so will eating other lacto-fermented foods and beverages.
Plus lacto-fermentation makes the vitamins and minerals in food more bio-available, so that our bodies can absorb more of their goodness.
Using whey to make nutritious beverages isn't new, although we moderns have forgotten about it. It's an ancient practice once used throughout the world and valued for its medicinal benefits.
Lacto-fermented beverages:
• relieve intestinal problems and constipation
• promote lactation in nursing mothers
• strengthen the sick
• and promote overall wellness and stamina
Modern research discovered that liquids containing dilute sugars and electrolytes of minerals are absorbed faster and retained longer than plain water.
Commercial sports beverage companies tout this research to promote their products. But modern sports drinks are high-sugar brews with minimal electrolytes.
Naturally lacto-fermented beverages contain plentiful mineral electrolytes and only a small portion of sugar. Plus their lactic acid and beneficial lactobacilli promote good health and more effectively relieve thirst.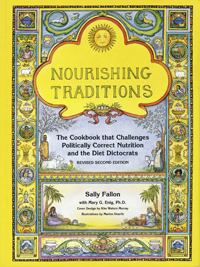 Sipped with meals, lacto-fermented beverages promote thorough and easy digestion. Swallowed after physical labor, they gently replenish the body's lost mineral ions. In Nourishing Traditions (a marvelous book from which I've learned a lot), Sally Fallon speculates that the human craving for alcohol and soft drinks may hark back to an archetypal collective memory of the ancient lacto-fermented beverages that were once foundational food ways. There's no knowing the accuracy of the notion, but it's an interesting idea.
So…what about beet kvass?
First a disclaimer. I adore the stuff, but some folks describe it as medicinal in taste. That doesn't compute for me. Beet kvass medicinal? Huh? But I'm a kvass lover. You may not be. Or perhaps you simply loathe beets. Many do. In which case, beet kvass may not be for you!
However, beet kvass possesses all the benefits of lacto-fermented beverages plus some special qualities all its own.
Annelies Schoneck in Des Crudités L'Année tells us that sick people lack the proper digestive juices in the gastro-intestinal tract. And not only during the acute phase of an illness, but for a long time after. Cancer patients especially do not possess healthy intestinal flora. Lacto-fermented beets are particularly valuable to cancer patients and the chronically ill, because they are so rich in vitamins, minerals, and enzymes. Plus they help normalize disturbed cellular function.

How do you make beet kvass? The recipe's coming right up. It's an easy one, even simpler than sauerkraut.
(If cooking is not your thing, health food stores often carry Zukay Beet Kvass. As does Amazon. I just checked! 😀 It's good, although not quite as tasty as homemade.)
BEET KVASS
3 medium or 2 large organic beets
1/4 cup whey
1 tablespoon Celtic sea salt
filtered water
a 2-quart canning jar
In addition to its medicinal benefits, beet kvass works well as a substitute for vinegar in salad dressing and as a flavorful enhancement to soups.
A word on ingredients: Be sure to use organic beets. The pesticide residues on conventional produce can halt the lacto-fermentation process. Use liquid whey drained from yogurt with active cultures or obtained from raw milk, not the powdered whey (which won't work for this) found in health food stores. Use Celtic sea salt, because most other salts have chemical additives that hurt or halt lacto-fermentation. Use filtered or well water, because the chlorine in chlorinated water also harms lacto-fermentation.
First wash and peel the beets. Then chop them coarsely. Do not grate them or chop them finely. Grated beets exude too much juice, which results in rapid fermentation. Rapid fermentation produces alcohol, rather than lactic acid. We need lactic acid for lacto-fermentation!
Place the chopped beets, the whey, and the salt in the 2-quart canning jar. Add filtered water to fill the jar. Stir well and cover with the lid, tightening firmly to finger tight.
Keep the jar on your kitchen counter for 2 to 4 days, depending on the temperature. At 80°F, 2 days will be enough. At 68°F, the kvass will need 3 or 4 days to lacto-ferment. You'll know it's ready to refrigerate (and drink) when the beet chunks float to the top.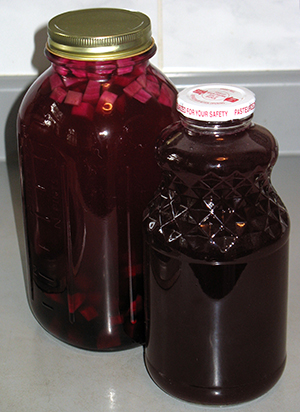 Serve by pouring the liquid – the kvass – into a glass. Keep the beet chunks in the jar. (I use a small strainer placed against the jar mouth while I pour to corral the beets.) If kvass is new to you, start with small servings, perhaps just a tablespoon or two, to give your body a chance to adjust.
When most of the liquid has been consumed (but not all – leave a quarter cup or so), fill the jar again with filtered water and keep it on the kitchen counter for 2 to 4 days to lacto-ferment again. This will give you another batch of kvass from the same chopped beets.
Or, you can decant the first batch into another jar and store it in the fridge, while starting your second batch right away. This makes pouring and serving the kvass easier. No beet chunks to corral. Plus you'll have that second batch ready to drink at about the time the first one is gone. In the photo above, you can see one jar with beets still in it, and one jar of decanted kvass.
After the second brew, discard the beet pieces. You've used all their goodness! You may, however, reserve a quarter cup of the kvass to use in place of the whey and salt in your next batch. I'm rarely disciplined enough to not drink every last drop! Yes, I love the stuff that much. 😀
For more lacto-fermented recipes, see Corn Relish and Sauerkraut.
For more Nourishing Traditions posts, see:
Yogurt & Kefir & Koumiss, Oh My!
Amazing Lactobacilli
Handle with Care
For more recipes with excellent nutrition, see Coconut Salmon and Baked Carrots.
For more on nutrition, see:
Thinner and Healthier
Test first, then conclude!
I'd love to hear about your cooking adventures and hope you'll consider sharing in the comments.