After reading Maffetone's In Fitness and in Health and Fallon's Nourishing Traditions, I sought out more myth-busting information. Hold onto your hats! I'm going to tell you what I discovered, and we're in for a wild ride!
The notion that intrigued me was this: what if saturated fat were actually good for you? Fallon's notes on butter from grass-fed cows hinted at this idea. Maffetone's advice to cut carbs out of your diet for his 2-week test echoed it. And the improved health and slimness of acquaintances following a low-carb regime further piqued my curiosity.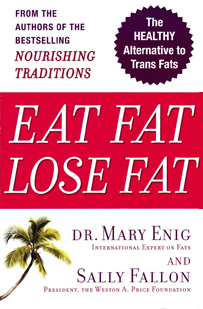 I purchased Eat Fat, Lose Fat by Sally Fallon and Mary Enig and devoured it in one evening.
Here was myth-busting with a vengeance!
The book includes a review of the basic chemistry of monounsaturated, polyunsaturated, and saturated fats. It also touches briefly on the influence of the food industry on governmental agencies and the culture at large in promulgating the belief that saturated fat is bad for us. (There are big bucks to be made from processed food, with hefty profit margins if inexpensive vegetable oils are used instead of pricey animals fats or coconut oil or palm oil.)
(I read Taubes' Good Calories, Bad Calories after, not before, reading Eat Fat. He describes the sea change from "starches make you fat" to "fat makes you fat" in griping detail. I highly recommend giving his book a read yourself, if you haven't.)
Many items in Eat Fat, Lose Fat grabbed my attention.
The first was Fallon's analysis of the research to date about fats. Some consists of studies of the diets of indigenous peoples. Some are studies performed in labs.
I learned that the Massai, who drank a gallon of milk every day and consumed meat and blood for the rest of their nourishment, simply didn't suffer heart attacks at all.
Then there were the employees of the Indian railway system. The largely vegetarian workers of Madras experienced 7 times more incidence of heart disease than the meat-loving Punjabi who ate 10 to 20 times as much fat.
In the Framingham-Peurto Rico-Honolulu study conducted by NIH, the participants who suffered heart attacks were those who consumed the most polyunsaturated oil.
A workshop held at the National Heart, Blood, and Lung Institute and analyzing studies on women and cholesterol found that, for women, high blood cholesterol is protective. The longest lived among elderly women were those with the highest cholesterol. Further, the statin drugs proscribed to lower cholesterol offer no benefit to women in preventing heart disease.
There's more; a lot more. But I'm not going to list every one of the 18 studies presented in chapter 2. Fallon is concise, but it's still too much for a blog post. The take-away point? Most studies looked at saturated fats and trans fats as the same thing. Mary Enig is the researcher who first blew the whistle on trans fats, and now we all know that no level of trans fats is safe. But all those studies with bad outcomes for fat in the diet? It was the trans fats doing it. Saturated fats have been tarred with the same brush quite inaccurately. Trans fats cause heart disease, contribute to cancer, cause hormone synthesis to go awry. Saturated fats? Probably not.
Next stop on our tour is a short list of various organs and other body systems which possess an intrinsic and critical need for saturated fat.
The Brain
60% of the brain is composed of fat. And phospholipids – 50% saturated fat – are an important component of brain cell membranes. Without saturated fat being supplied to the brain by diet, brain chemistry may be compromised.
Cells
Saturated fats maintain cellular integrity everywhere in the body. Every cell membrane is ideally composed of 50% saturated fat. When polyunsaturated fat fills in on the job, the cells actually become somewhat "floppy" and cannot work properly.
Bones
Saturated fat is necessary for calcium to be incorporated into the structure of the bones. Osteoporosis, anyone?
Liver
Saturated fat protects the liver from certain toxins, such as those in acetaminophen.
Heart
Saturated fats are the heart's preferred food, especially in times of stress.
Saturated fatty acids lower the blood substance Lp(a), a proven marker for heart disease.
Saturated fats lower C-Reactive Protein, an indicator of inflammation, which may cause many cases of heart disease.
Lungs
The lungs require a surfactant in order to work, and the fatty acids in that surfactant are 100% saturated fatty acids. When trans fats and polyunsaturated fats fill those slots, the lungs suffer.
Hormones
Hormones are the messengers connecting the brain, nervous system, and glands into a synchronous whole. Some critical hormones cannot be synthesized in the body without the vitamin A provided by fatty animal foods such as liver and shellfish. The wrong kinds of fats substituted into the equation lead to problems with glucose balance, mineral metabolism, and reproduction.
Again, there's more, but I'll move on to the next myth-busting tidbits.
Myth: Plants provide enough vitamin A.
Fact: Many vegetables and fruits contain carotenes, building blocks for vitamin A. Our bodies can convert these carotenes into vitamin A via a complex operation in the small intestine, but usually not enough vitamin A. And some bodies cannot do it at all, lacking the necessary enzymes: diabetics, thyroid patients, sufferers from certain digestive disorders, and babies and children.
Myth: Sunlight provides enough vitamin D.
Fact: Our bodies make vitamin D only in the presence of UV-B light. In temperate regions, this happens only when the sun is directly overhead. And exposing merely face and lower arms is not sufficient. How many of us can sunbathe for 30 minutes at noon every day wearing swim trunks or a bikini? That's what it would take – in the summer. In winter, with the sun lower in the sky, we're out of luck.
The bottom line: Not only are saturated fats healthy, they are necessary!
Enter the oil of the coconut, the nut of the coconut palm.
Fallon calls it the queen of saturated fats, because of its special properties, and it really is a marvelous substance. It's almost tailor-made for losing weight, since metabolizing the lauric acid within coconut oil (coconut oil is 50% lauric acid) actually uses more energy than it provides.
Three key benefits of coconut oil:
• The fats in coconut oil are not stored in the body as fat. They are quickly converted to energy.
(I can personally attest to the subjective experience of this. For most of my life I suffered from physical fatigue and lethargy, worsening as I got older. Once I started eating coconut oil (and reduced my carb intake), that changed. The feeling of having a physical reserve I can draw upon is wonderful.)
• People living in countries where the coconut is an important part of their diet have lower rates of heart disease and cancer.
• The fats in coconut oil kill viruses and pathogenic bacteria by stripping their protective outer layer. (You'll get sick less often, when you eat coconut oil frequently!)
Next comes a run through nutrient-dense foods such as pasture-fed eggs, butter and cream from pastured cows, liver (the sacred food of many cultures), raw cheeses, lacto-fermented beverages, bone broths, and Celtic sea salt. And then we're on to the food plans and recipes, some simple like fried eggs, some more sophisticated like chicken with coconut peanut sauce, but all good, all good for you, and all helpful for those of us watching our weight!
This book, together with Nourishing Traditions, In Fitness and in Health, and Good Calories, Bad Calories, completed the process of turning my nutritional know-how upside down. I'm still adjusting my cooking habits, still learning how best to feed this unique body of mine, but my health is better, my weight is down, and I'm optimistic about my future.
I've blogged about each of these amazing reads over the past year. If you missed those posts, you can find them at the links below.
Good health and good eating to you all! And if you want your very own copy of Eat Fat, Lose Fat, here are some links for that.
For more on books important to continuing nutritional education, see:
Thinner and Healthier
Test first, then conclude!
Yogurt and Kefir and Koumiss, Oh My!
Why Seed Oils Are Dangerous