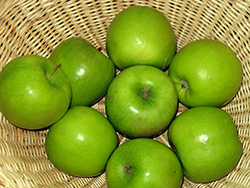 I love fine cuisine, but the daily grind of cooking is truly not my thing. My husband does more of it than I, but I do cook. We both emphasize simple recipes with excellent ingredients. Complicated food is fun to eat, not so much fun to prepare for a Wednesday dinner!
I'm going to share another of my "un-recipes." I call them that, because they're so simple they barely deserve the epithet of recipe. Gourmets will laugh at me, but if it's yummy and healthful, I'm satisfied.
Baked apples always featured as a dessert in my mind. And, certainly, if you add a sprinkling of cinnamon, nutmeg, and sugar to this dish, it makes an excellent dessert. Avoid the sweeteners, however (but keep plenty of butter from grass-fed cows), and you've got a good accompaniment to roast pork or roast fowl.
Here's my simple procedure.

Baked Apples
8 organic apples
1/4 cup butter
Grease the baking dish with butter.

Wash and peel the apples.
Core and cut the apples into bite-sized chunks. Arrange them in the baking dish.
Melt the butter. Drizzle it over the apples.

Cover the baking dish and place it in the oven. Bake for 1 hour at 350°F.

Serves 4 generously.
For more simple recipes, see:
Sautéed Eggplant
Sauerkraut
Baked Carrots
Coconut Salmon
Oatmeal, Brown Rice, Granola, and Crisp Nuts
Coconut Chocolates
For more about butter, see:
Butter and Cream and Coconut, Oh My!