It's time for more book recommendations. Here are four!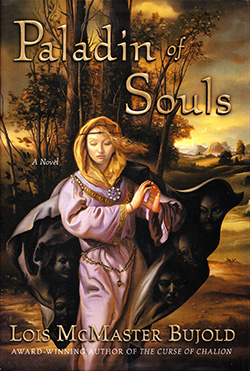 Ista, mother of Chalion's ruling royina, lives retired in Castle Valenda under the care of her anxious kinswoman and ladies in waiting. Considered a madwoman for years, and still a little … unbalanced, from her long ordeal, she endures the loving vigilance of her caretakers. A vigilance that only wearies and annoys her. But how to escape their loving restrictions, her culture's limiting constraints, and the bitterness of her past baffles Ista. Until by chance she encounters a vulgar widow on pilgrimmage, and inspiration strikes.
I can't decide whether I love Paladin of Souls or its prequel The Curse of Chalion more, but they both vie for the spot of most favorite read ever. In the classic choice of one book and a desert island, Paladin would be it. Unless it were Curse! Two books? No problem: both these!
Ista has spent nearly twenty years submerged in a prolonged eclipse. Now she stands poised for rebirth, ready even to shine. Reading her journey is sheer magic for the heart and soul.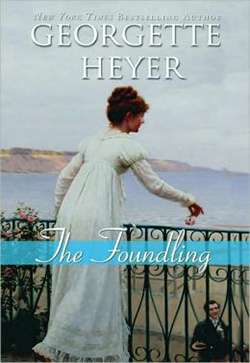 Gilly – that is, the Most Noble Adolphus Gillespie Vernon Ware, the Duke of Sale – hates disappointing those who care for his interests. His devoted valet chooses his raiment, and Gilly acquiesces to all his selections. His estate agent informs him that his progressive notions are naive, and Gilly swallows the reproof. His garulous companion from his Grand Tour through Europe threatens to render his visit to London hideous, and Gilly shows him courtesy. But when his solicitous and autocratic guardian, Lord Lionel, announces that he's arranged Gilly's marriage, the duke decides he's carried his amiability too far.
Gilly eludes his entire retinue to pursue adventure: a solo quest to save his young cousin from a villain bent on blackmail. Or, as Gilly tells his other cousin, his favorite one: "to slay a dragon." But Mr. Liversedge is a canny scoundrel, well able to defeat his inexperienced adversary. Can Gilly – so amenable and civil – possibly prevail?
Like all of Heyer's Regency romances, this one cavorts from absurdity to absurdity, improbably so, yet curiously plausible and thoroughly delightful. Her characters are so real they make the proverbial leap from the page, and her world-building, so superb, I wander Regency England while I read.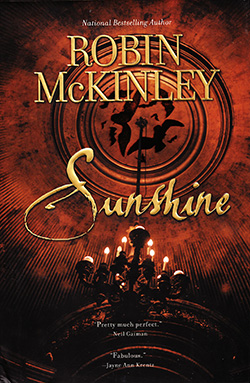 She never even heard them coming. But you don't, Rae Seddon tells us. Fed up with her family, fed up with the coffeehouse – the family business, fed up with just everything, this young baker who loves feeding people drives out into the country by night to meditate at the lake. There, those darkest of the Others – the bloodsuckers – capture her to feed to a special undead prisoner: Constantine, a master vampire hated by their own master, Bo.
But Rae possesses an unusual lineage and unusual powers deriving from her hitherto-ignored legacy, and something strange happens in the derelict mansion where the vampires stake her as bait for Con.
I must make a confession: I don't like straight-up romances. It's not that I don't enjoy the dance that ensues when boy meets girl. I simply need something more for the story to enthrall me. Add humor and stellar world-building, like Heyer, and I'm enchanted. Add mystery and deep emotional insight, like Sayers, and I'm engrossed. Add military adventure and intense inner journey, like Bujold, and you cannot pry me away.
So, how does this relate to McKinley's Sunshine?
Well, it occurred to me as I wrote the above synopsis that the plot appears to follow the formula for paranormal romance: young woman with special powers that she doesn't know about, must discover, and then master; undead or otherwise powerful and threatening counterpoint; and the unique path these two must tread to relate to one another fruitfully. So why do I like Sunshine? That formula proved insufficient for my taste when I attempted it previously. The answer: exquisite world-building paired with saving said world from utter destruction. The book riveted me to its pages. So much so that I've re-read it three times and will undoubtedly repeat the experience many times through the years.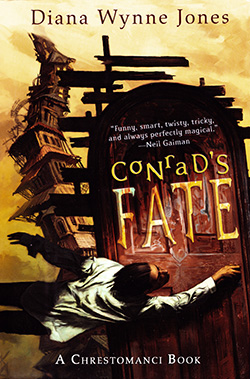 Twelve-year-old Conrad Tesdinic knows he'll die in agony before the year is up. It's his fate. In a previous life he either did something bad that he shouldn't, or failed to do something good that he should have. And no one knows what it was. But his Uncle Alfred pulls strings to get him a job as footman in Stallery Mansion where he can clear his karma.
Conrad would much prefer to continue his schooling, to aim for university, to become someone brilliant: an aircraft pilot, a famous scientist, a great surgeon, anything other than staying in Stallchester drudging in his uncle's bookstore, polishing boots at the mansion, or cooking meals for his mother and uncle. But karma calls, along with the clever wickedness lurking in Stallery.
So Conrad goes, but his new employment proves utterly different than he'd imagined. Secrets upon secrets lie piled in the mansion, and Conrad must unravel them all, including a few that connect right into the heart of his own family.
I love all of Jones' stories, but my favorite was always Charmed Life, the first tale by her I ever read. No matter how much I enjoyed the rest of her stories, I never suspected another might knock Life from its preeminence. Until I read Conrad's Fate. I can't say it truly tipped Charmed Life from its throne, but surely it shares the seat. Sparkling, funny, and poignant by turns, its wheels within wheels entertained and astonished me through to the very end, when all the mysteries lay revealed, and everyone's karma, balanced!
For more book recommendations, see:
Gods & Guilt, Scandals & Skeptics
Courtship and Conspiracy, Mayhem and Magic
Mistakes, Missteps, Shady Dealing, & Synchronicity
Duplicity, Diplomacy, Secrets & Ciphers
Beauty, Charm, Cyril & Montmorency