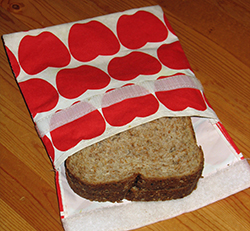 The summer before my twins started school, I prepped for their bag lunches.
We'd been on a non-plastic food storage kick for several years, and I didn't want to go back to caressing comestibles with bisphenol A or anything similar!
It took some creativity. The marketplace provided fabric bags for sandwiches and pretzels. Ditto steel canteens for water and thermoses for soup. But what would I put juicy quartered pears, moist sliced cucumbers, or drippy applesauce in?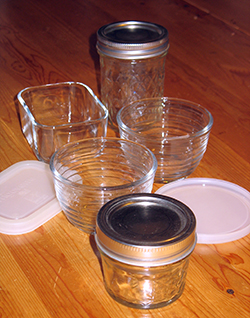 I rootled around online and discovered several possibilities. One eco-store carried small glass containers – both rectangular and round – with plastic lids. But my best solution turned out to be 4-ounce canning jars! They were small. I needed small, because 5-year-olds eat small servings. They were tough and unlikely to break (good, thick glass). And they were inexpensive! Also important, since we were on a tight budget.
I felt pretty pleased with myself: insulated lunch sacks, sandwich bags, Klean Kanteens, tiny canning jars, small cloth napkins, small stainless steel utensils, and cold packs. I was ready!
You know there's more to my story than that, right?
Yep.
Turns out that many schools don't allow glass containers in their cafeterias. Ours was one of them.
I didn't learn this until 4 weeks into the school year, when my son dropped his canning jar full of mini carrots on the cafeteria floor. It didn't break. (I'd thought it would not.) But his teacher contacted me and requested I make other lunch provisions.
Yikes! Now I had to scramble.
Luckily To-Go Ware came through with its "sidekick" containers intended to hold dressing for salads. My kids weren't salad eaters, but the sidekicks would work just fine for other wet foods. I purchased half a dozen, and then we were all set.
In case you're currently assembling your own plastic-free, waste-free lunch kit, I'll share the details of ours.

I love the BUILT lunch sacks, because they provide some insulation, but they're also stretchy. On days when a child asserts he or she is especially hungry and wants a big lunch, that stretch is key.
I like Klean Kanteens for beverages. The opening is big enough to easily slip ice cubes inside. (My daughter prefers her water super cooled.) There's no inner lining. (Linings crack over time, so I want stainless steel straight up.) And the canteens come in a size small enough to fit inside a lunch sack.
I tried a cloth wrap for sandwiches, but discovered that it featured a plastic lining. I sewed my own version without plastic, but then the sandwich dried out by lunchtime. Not very tasty. Finally I settled on the nylon bags from reuseit.
The small sidekick from To-Go Ware is perfect for veggies, but my kids like a larger helping of fruit. I don't remember what my solution was that first year of school. By the next year, a larger sidekick was released, and I purchased a half dozen of them.
I use small "cocktail"-sized cloth napkins: small, small, small is always important on the go. Camping utensils (also small) provide a fork for mac & cheese or spoons for yogurt. And then there's the cold pack, probably unnecessary for PBJ, but reassuring if the sandwich features sliced ham. August in Virginia is hot!
I've included links in all of the above, so you can easily track down anything that fits your needs.
Do you pack lunches for work or school or hiking in the mountains? I'd love to learn about your solutions in the comments here.
For more on green living, see:
Bandanna Gift Wrap
Grass Green
Great Soap & Etcetera Quest