After printing umpteen million proof copies – okay, I'm exaggerating! it just seemed like that many – CreateSpace has finally disgorged an edition that looks the way I want it to! Livli's Gift is now available in paperback. I'm thrilled!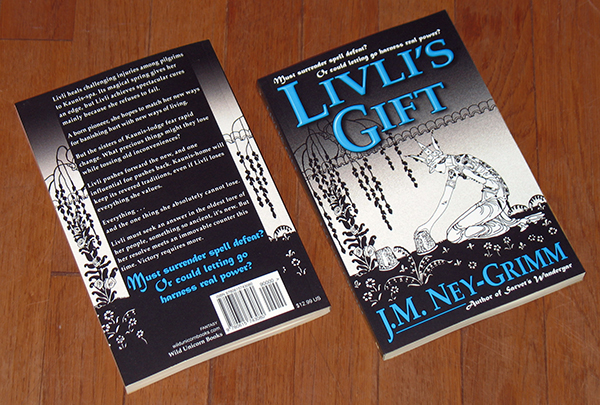 Livli heals challenging injuries among the pilgrims to Kaunis-spa. Its magical hot spring gives her an edge, but Livli achieves spectacular cures mainly because she refuses to fail.
A pioneer, she hopes to match her new ways for banishing hurt with new ways of living.
But the sisters of Kaunis-lodge fear rapid change. What precious things might they lose while tossing old inconveniences?
Livli pushes forward the new, and one influential foe pushes back. Kaunis-home will keep its revered traditions, even if Livli loses almost everything.
Everything . . . and the one thing she absolutely cannot lose.
Livli seeks an answer in the oldest lore of her people, something so ancient, it′s new. But mere resolve against failure meets an immovable counter force this time. Victory requires more.
Must surrender spell defeat? Or could letting go harness real power?
Livli's Gift as a trade paperback:
6″x 9″ trim size • 212 pages
ISBN-10: 0615743080
ISBN-13: 978-0615743080
Amazon.com I Amazon UK I B&N I CreateSpace
Livli's Gift continues to be available as an ebook:
Amazon.com I Amazon UK I Amazon DE I Amazon ES
B&N I Diesel I iTunes I Kobo I Smashwords
Update: A lovely review appeared on Goodreads over the weekend, so lovely that I can't resist sharing it!
"I have never read a novel that made me feel so good. Mrs Ney-Grimm, you absolutely BLEW MY MIND! . . . It was so unique, so original . . . Usually I blast through the pages of a book that I love, but Livli's Gift made me want to go as slow as possible, absorbing every moment of bliss." – Goodreads review