I've gotten behind announcing new paperback releases, so I'm going to catch up!
The most recent one – just 2 weeks ago – was Resonant Bronze. It was the second story to be inspired by Rainbow's Lodestone. I got to wondering about the ruins that formed the setting for Rainbow and the people who had lived in them. Resonant Bronze is the result.
Resonant Bronze has been "in print" as an ebook for a year, but it's exciting to have it release as a paperback.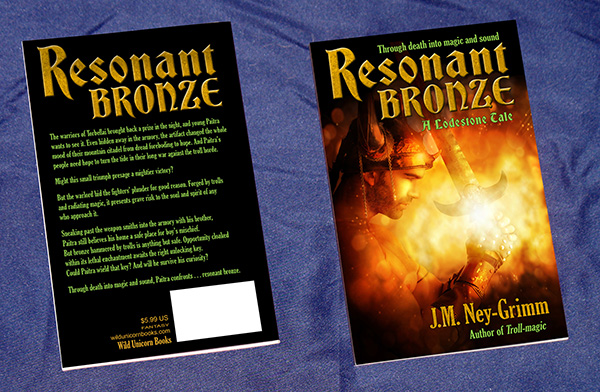 The warriors of Torbellai brought back a prize in the night, and young Paitra wants to see it. Even hidden away in the armory, the artifact changed the whole mood of their mountain citadel from dread foreboding to hope. But the warlord hid the fighters' plunder for good reason. Forged by trolls and radiating magic, it presents grave risk to any who approach it. Will Paitra survive his curiosity?
Trade Paperback: Resonant Bronze
Amazon.com I Amazon UK I CreateSpace
Ebook: Resonant Bronze
Amazon.com I Amazon UK I Amazon DE I Amazon ES I Amazon AU
B&N I iTunes I Kobo I Smashwords
* * *
Devouring Light released as an ebook last December – 8 months ago – and as a paperback this June, roughly 3 months ago.
In it, I departed from my North-lands to tell a story in which the constellations performed a circus for the Greek gods. The circus ended up being somewhat of a sidenote in an adventure that spans our solar system. It's fantasy, even though Mercurio (aka Hermes or Mercury) travels to Pluto, while Draco (the dragon constellation personified) leaves the environs of Sol altogether, flying far into outer space.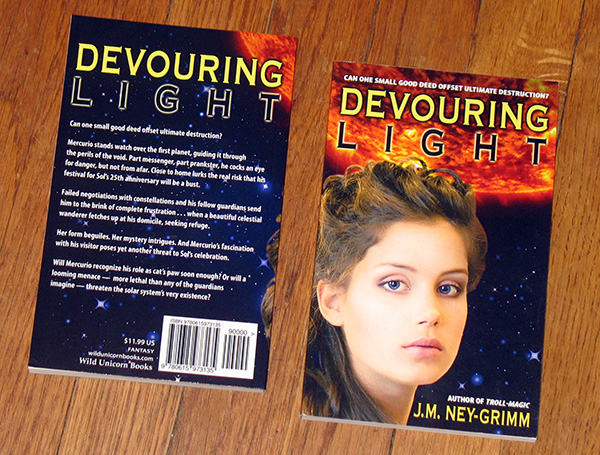 Can one good deed offset ultimate destruction?
Mercurio guards the first planet, guiding it through the perils of the void. Part messenger, part prankster, he cocks an eye for danger.
When a beautiful celestial wanderer seeks refuge at his domicile, will he recognize his role as cat's paw? Or will a looming menace – more lethal than Mercurio imagines – threaten the solar system's very existence?
Trade Paperback: Devouring Light
Amazon.com I Amazon UK I B&N I CreateSpace
Ebook: Devouring Light
Amazon.com I Amazon UK I Amazon DE I Amazon ES I Amazon AU
B&N I iTunes I Kobo I Smashwords
* * *
The release of A Knot of Trolls is especially thrilling for me. I'd envisioned creating a collection of my shorter works almost as soon as I had a few short stories and novellas out. It took me rather longer to make that happen than I'd expected! A Knot of Trolls released as an ebook February 2014 and as a paperback April 2014.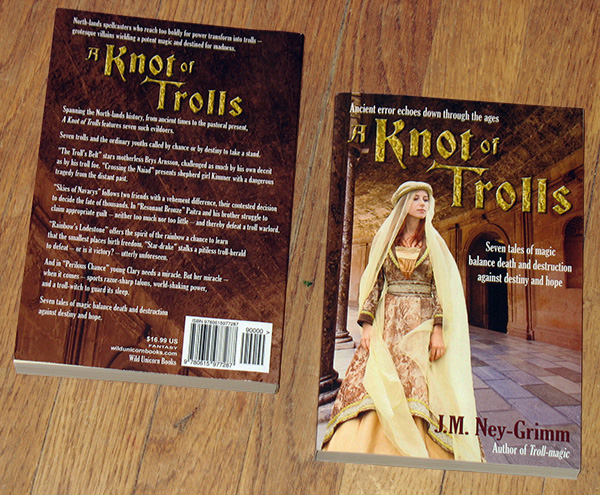 North-lands spellcasters who reach too boldly for power transform into trolls – grotesque villains wielding a potent magic and destined for madness. A Knot of Trolls features seven of these evildoers, each pursuing a unique design for troubling their neighbors. Across the ages of the world, ordinary youths must rise to the challenges laid down by trolls. Destiny and hope lie in the balance.
Seven tales of magic and troll-mages – ancient error echoes down through time.
Trade Paperback: A Knot of Trolls
Amazon.com I Amazon UK I B&N I CreateSpace
Ebook: A Knot of Trolls
Amazon.com I Amazon UK I Amazon DE I Amazon ES I Amazon AU
B&N I iTunes I Kobo I Smashwords
* * *