I know that some of my readers prefer paper books over ebooks. And there is something special about holding a book in my hands, turning it over to see the back cover, and turning the pages to read it. Maybe my enjoyment of the physical form is just because that's what I grew up with, but it's real. Of course, I must plead guilty to reading a lot of ebooks: super convenient for when I'm waiting in a doctor's office or ferrying my child to soccer practice, etc. Plus ebooks don't break my budget.
This post, however, is for the paper lovers among us. Several of my readers ask me at intervals if I have any new paper releases. I thought it might be helpful to list all of my books that do have paper editions. As I type this, I have ten stories in paperback. Ten! That amazes me. 😀
Here's the list:

Accursed Prince Kellor wrestles with the daunting challenges of his north-bear form. A childhood friend holds the key to his escape. But charming Elle will be no easy task. She faces her own engrossing dilemmas. Can she realize her musical promise and unravel Kellor's curse? In epic adventure across a stunning landscape, the two engage a potent enemy in a lethal battle of wills.
Fighting against a nightmare pales beside fighting for a dream.
Troll-magic Paperback
Amazon.com I Amazon UK I B&N I CreateSpace

Clary needs a miracle, but wonders rarely step forth to solve life's problems. While her mama lies wearily abed and her papa spends the day . . . elsewhere, Clary struggles. Then she visits the old bramble-grown quarry. Hidden there, her miracle awaits: a miracle of razor-sharp talons, world-shaking magic, and ravenous hunger. When it cracks the egg, can Clary survive? Something wondrous this way comes!
Perilous Chance Paperback
Amazon.com I Amazon UK I B&N I CreateSpace

Young deceit sprouts timeless trouble.
Motherless Brys Arnsson digs himself into trouble. Bad trouble. Tricked by a troll, Brys must dig himself and his best friend back out of danger. But that requires courage . . . and self-honesty. Traits Brys lacks at depth.
A twist on a classic, The Troll's Belt builds from humor-threaded conflict to white-knuckle suspense.
The Troll's Belt Paperback
Amazon.com I Amazon UK I B&N I CreateSpace

North-lands spellcasters who reach too boldly for power transform into trolls – grotesque villains wielding a potent magic and destined for madness. A Knot of Trolls features seven of these evildoers, each pursuing a unique design for troubling their neighbors. Across the ages of the world, ordinary youths must rise to the challenges laid down by trolls. Destiny and hope lie in the balance.
Seven tales of magic and troll-mages – ancient error echoes down through time.
A Knot of Trolls Paperback
Amazon.com I Amazon UK I B&N I CreateSpace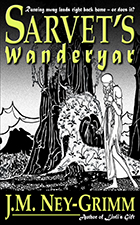 Sarvet's Wanderyar
KAUNIS CLAN I
Running away leads right back home – or does it?
Sarvet walks with a grinding limp, and her mountain culture keeps girls close to home. Worse, her mother emphasizes all the things Sarvet can't do. No matter how gutsy her spirit or bold her defiance, staying put means growing weaker. Yet only boys get wanderyars. Lacking their supplies and training, how can Sarvet escape? Can dreams – even big dreams – and inner certainty transform impossible barricades into a way out?
Sarvet's Wanderyar Paperback
Amazon.com I Amazon UK I B&N I CreateSpace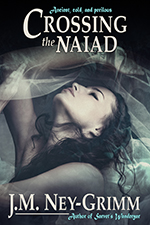 Crossing the Naiad
KAUNIS CLAN II
Its truth forgotten in the mists of time, the old bridge harbors a lethal secret. Something dark and primal haunts the stones and the wild river below.
Kimmer knows the stories, but she doesn't know why the crumbling span feels so fraught with menace. Her way home lies across the ruin. Dare she take it?
Crossing the Naiad Paperback
Amazon.com I Amazon UK I CreateSpace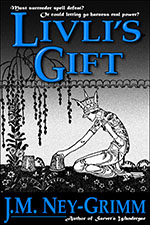 Livli's Gift
KAUNIS CLAN III
In Kaunis-spa′s magical spring, Livli achieves spectacular cures. A pioneer, she hopes to match new ways for healing with new ways of living. But the Kaunis-sisters fear rapid change. While Livli pushes forward the new, one influential foe pushes back. Home will keep its ancient customs, even if Livli loses everything. Must surrender spell defeat? Or could letting go harness real power?
Livli's Gift Paperback
Amazon.com I Amazon UK I B&N I CreateSpace

Can one good deed offset ultimate destruction?
Mercurio guards the first planet, guiding it through the perils of the void. Part messenger, part prankster, he cocks an eye for danger.
When a beautiful celestial wanderer seeks refuge at his domicile, will he recognize his role as cat's paw? Or will a looming menace – more lethal than Mercurio imagines – threaten the solar system's very existence?
Devouring Light Paperback
Amazon.com I Amazon UK I B&N I CreateSpace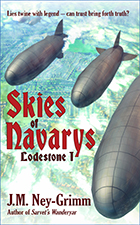 Skies of Navarys
LODESTONE I
Lies twine with legend – can trust bring forth truth?
A royal geomancer announces that the goddess Evaia shrugs, and every citizen on the island springs to action. Amidst the uproar, the aeromancer Palujon steals unique and magical lodestones. Mago discovers the theft and vows to retrieve the stones. His friend Liliyah questions Palujon's motives. Why would a man of his stature break the law? Is he truly a rogue? Life and death hang on her answers.
Skies of Navarys Paperback
Amazon.com I Amazon UK I B&N I CreateSpace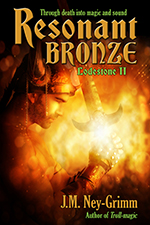 Resonant Bronze
LODESTONE II
The warriors of Torbellai brought back a prize in the night, and young Paitra wants to see it. Even hidden away in the armory, the artifact changed the whole mood of their mountain citadel from dread foreboding to hope. But the warlord hid the fighters' plunder for good reason. Forged by trolls and radiating magic, it presents grave risk to any who approach it. Will Paitra survive his curiosity?
Resonant Bronze Paperback
Amazon.com I Amazon UK I CreateSpace

Updated 12-09-2014 to add: Rainbow's Lodestone and Star-drake.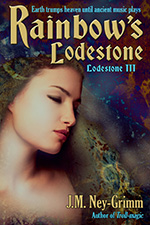 Rainbow's Lodestone
LODESTONE III
A lost birthright and unending agony. On a whim, the rainbow's child falls to earth, where a cruel adversary takes advantage of her innocence. This transcendent story explores how inner freedom creates outer opportunities.
Earth trumps heaven until ancient music plays.
Rainbow's Lodestone Paperback
Amazon.com I Amazon DE I Amazon ES I Amazon UK I CreateSpace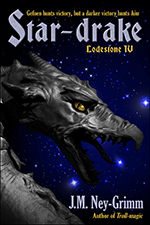 Star-drake
LODESTONE IV
Gefnen – herald to Koschey the Deathless – hunts life. When the piercing scent of youth tingles his senses, Gefnen focuses his chase. The prey – a boy – lacks guardians strong enough to best a troll. But other seekers tilt the chances in this game. Spirit of storm, poignant memories, and something more ancient than memory or wind shape looming tumult. Gefnen hunts victory, but a darker victory hunts him.
Star-drake Paperback
Amazon.com I Amazon DE I Amazon ES I Amazon UK I CreateSpace