I'm always excited when one of my books releases in paperback. But there's something really special about Quantum Zoo doing so. Probably because it was such a big project, an ambitious project, and involving so many people. Regardless of the reasons…I am totally doing the happy dance!
:: happy dance, oh, happy dance, happy dance, so happy dance ::
Okay, maybe I can calm down now. Here's the more sedate statement:
Quantum Zoo is now available as a paperback. Just in time for holiday gifts! Yippee!
(Okay, maybe not so calm after all. I can't be calm with all this excitement fizzing inside me!) Here's what the book looks like. More about the contents below.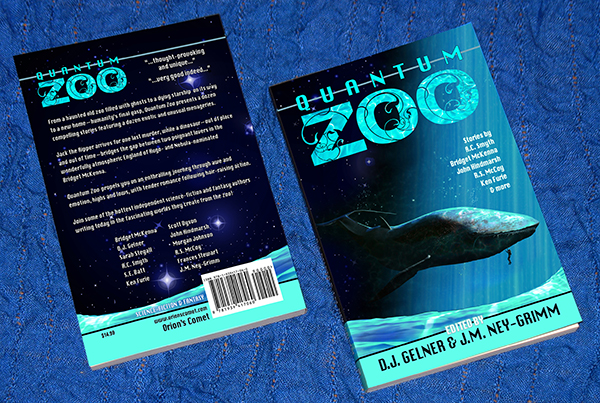 From a haunted old zoo filled with ghosts to a dying starship on its way to a new home – humanity's final gasp, Quantum Zoo presents a dozen compelling stories featuring a dozen exotic and unusual menageries.
Jack the Ripper arrives for one last murder, while a dinosaur – out of place and out of time – bridges the gap between two poignant lovers in the wonderfully atmospheric England of Hugo-­ and Nebula-­nominated Bridget McKenna.
Quantum Zoo propels you on an enthralling journey through awe and emotion, highs and lows, with tender romance following hair-­raising action.
Join some of the hottest independent science-­fiction and fantasy authors writing today in the fascinating worlds they create from the zoo!
Quantum Zoo as a paperback:
Amazon.com I Amazon DE I Amazon ES I Amazon UK I CreateSpace
PRAISE FOR QUANTUM ZOO
"What a terrific anthology! Quantum Zoo brings together a great collection of stories by both new and seasoned authors. Given only the starting concept of "zoo," each author was then allowed to explore that theme in any way they chose. The result: a head-spinning collection of amazingly inventive stories ranging from high fantasy to horror to science fiction." – Michael Major
PRAISE FOR QUANTUM ZOO AUTHORS
Morgan Johnson writes a "fast, fierce and gritty cyberpunk space lovecraftian tale. Seamlessly honed to a wicked point."
"Definitely a page turner, exciting, funny, and heart-wrenching at the same time. Gelner 'knocked it out of the park'!"
"Furie has an eye for witty detail that keeps you turning the pages. More, please!"
"A.C. Smyth has written a gripping, captivating page-turner… Sylas owns my heart, and his journey alternately makes me want to laugh, cry, smack him upside his stubborn head, scream, and most of all, keep reading!"
"McKenna's subtle style and deft handling are practically textbook perfect for short form fiction."
Stegall "clearly loves two things: historical research and San Francisco. I'm not sure if I learned more about San Francisco or Wyatt Earp, but I had a great time in the process."
"Batt has done it again. This story is just unfairly funny. I couldn't stop laughing, which got me plenty of odd looks in public, I'll tell you…"
"…always fun to discover a new, talented author, and Scott Dyson is my latest find."
"A brilliant new fantasy concept, intelligent writing… [McCoy's] innate story-telling ability combined to produce a tale that I could not get enough of."
Ney-Grimm "has an ethereal sort of quality to her writing…it's almost mystical…absolutely unique, and absolutely engaging."
"Damn you John Hindmarsh – I am on vacation in Turkey and am waking up late every day because I start reading this book in the evening and can't put it down until 2:30AM!"
Quantum Zoo continues to be available as an ebook.
Amazon.com I Amazon AU I Amazon CA I Amazon DE I Amazon ES I Amazon UK