It's here! It's here! It's here at last! 😀
"What is here?" you ask politely, perhaps taken aback by my enthusiasm.
A Talisman Arcane
This book got interrupted while I was in the middle of writing it. It feels like it's taken much longer than usual from the moment when I started the story to now, when I'm publicly announcing its release. So I'm excited!

Not only is the book available now, but the early reviews are largely favorable, which pleases me a lot.
"Great book about an unlikely friendship…" —Karen B.

"…really enjoyed this story. I read it in a single day. I have to admit I was a bit annoyed when I was interrupted, so you might want to read it on a quiet day of solitude…" —Caroline McBride

"There's an interesting magic system… But mostly this is a character focused book… The relationships, both new and old, were well written and well thought out." —Sleepy

"…I really loved this book. I found it hard to put down…and when I did put it down I was often thinking about the characters and what was last going on…when I'd stopped. The characters were all well developed, with strong personalities and backgrounds." —Dragonessa
But enough of what people are saying. What about the book itself?
Although it is the first in a series, it's a complete story. I originally wrote the book as a standalone, but every one of my early readers demanded a sequel, because they wanted to hang out with Lealle again and revisit her world.
I feel that way myself. And I have ideas for fresh adventures! So books 2 and 3 will be coming along soon. 😀
Here's a bit about A Talisman Arcane.
* * *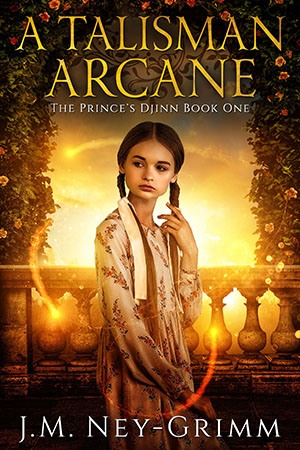 The mansion on Balard Square stands empty. Dirt grimes its marble columns. Cracks mar its once pristine walls. No one enters or exits.
Rumor says no one lives there. Neighbors ignore the property, glad it's merely shabby, not derelict. Brash youths pretend a witch makes it her home, a wicked witch who hates children.
All of them—rumor, neighbors, and youths—are wrong.
Fleeing a ragged horde of boys, young Lealle discovers the truth of the history-haunted house.
She hopes to keep that truth secret.
But her silence threatens disapproving neighbors, trespassing bullies, and one gentle soul in desperate need of a lifeline.
Magic and coming of age in the tradition of Patricia C. Wrede's Mairelon the Magician.
A Talisman Arcane is available as an ebook. Amazon
* * *
I am experimenting again with having an ebook in Amazon's Kindle Unlimited program. My apologies to those of you who get your ebooks elsewhere.
The paperback edition—which will release in a week or two—will be available everywhere. And I plan to make the ebook widely distributed after 90 days.