For nearly a year, I've been longing to create boxed sets of my books.
Wouldn't it be fun to have a Lodestone Tales set or a Kaunis Clan set? Really I've been envisioning variations in my mind's eye ever since I saw the cool 3D images created for bundles by Chuck Heintzelman at BundleRabbit.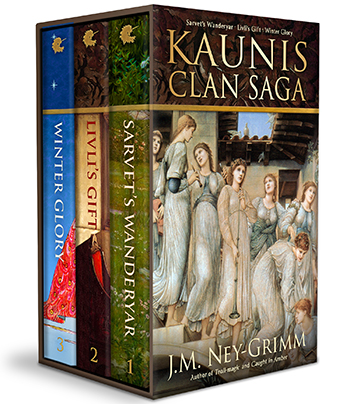 Adding fuel to the inspirational fire has been the urging from Kobo, both in their newsletter for indies and in their promotional opportunities. There have been special promos for boxed sets at least three times this year, and, oh, but I wished each time that I had something to offer.
I didn't. But I put "create boxed set" on my to-do list.
Between surgery, complications from surgery, and twins applying to colleges, I fell very far behind in doing all those items on my to-do list. For a long time I kept adding more items without crossing any off! Yikes!
But in October I began to make progress, and while I'm not yet caught up, I'm getting there.
So I tackled making a boxed set of the Kaunis Clan Saga.
Creating the interior was routine. I've grown very experienced with the program I use to produce ebooks. (Jutoh.) Creating the cover was fun.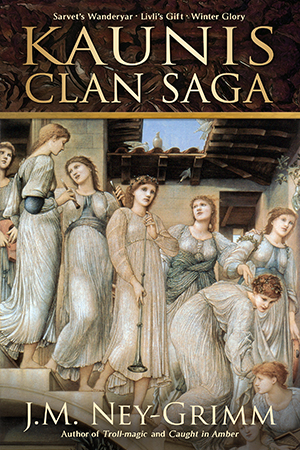 Creating the 3D image of the boxed set? Well…that's complicated.
First of all, several of the e-tailer sites strongly discourage 3D images. Kobo claims that the flat 2D covers sell many more copies than do the 3D ones. Since I want to sell some copies on Kobo, and since I hope to be selected for promos on Kobo (the promo slots are curated), I figure I'd better follow their guidelines.
I could get by without any 3D image, but I'd like to have one for Amazon. And I thought I'd found the perfect resource for easily creating one.
Mark of CoverVault.com sells an awesome template for boxed sets of any size up to 25 books. You just drop your box cover and book spine images into the template, and out spits your perfectly rendered 3D image.
I headed over to CoverVault, all prepared to snag the goods, and—
—hit a different kind of snag.
You must have Creative Suite 4 or better. I have CS2. So I set out to build my 3D image from scratch.
I was surprised that I managed as well as I did, because I'm not experienced at creating 3D images. Cover design as practiced by me is a very 2D endeavor.
But I'm not satisfied enough with the result to publish the boxed set on Amazon.
At first I thought that lack of precision was my problem. If you zoom in very close, some of the details do look clumsy. But zoomed out to thumbnail size, any lack of precision is pretty well camouflaged.
So why wasn't I satisfied?
I browsed through the boxed sets offered by other indies, and found my answer.
Bundles have a rainbow of book spines showing, and it works—probably because it visually illustrates the multitude of authors contributing stories to the bundle.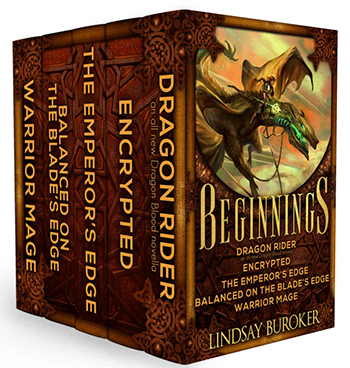 But boxed sets of books by one author have book spines designed especially for the set that harmonize with each other and the box cover.
So the next item on my to-do list? Create book spines that possess the same visual theme exhibited by my boxed set's cover.
I'm crossing my fingers that I've identified the problem and its solution correctly! If my 3D image still doesn't look right…I'll have to come up with a plan B. Either way, I'll let you know how it goes. 😀