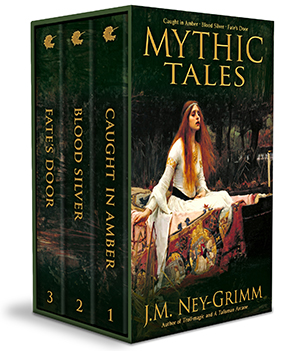 I had so much fun creating a boxed set in December that I've created another. 😀
Caught in Amber, Blood Silver, and Fate's Door are now available in a Mythic Tales boxed set. The set costs $4 less than buying the books separately, so it's a good deal, too.
Fantasy mixed with history—bright, ancient, and vivid. Three novels.


Caught in Amber
When young Fae awakens in a locked and deserted castle, she remembers nothing. Who she is, where she comes from, none of it.
A mythic tale of family and betrayal told with all the twists and moments of sheer joy that J.M. Ney-Grimm brings to epic fantasy.
Blood Silver
In a mythical Ireland that never was, mortal villages perch all unknowing beside enchanted knolls. Beneath them dwell the cruel and capricious faie folk.
Tahaern, a faie warrior by birth but not in spirit, eschews his vicious origins. Loving the bright world, he serves a mortal village as healer.
But when the faie declare war upon their neighbors, Tahaern must again take up his sword…
Fate's Door
Secrets, like troubles, come in threes. Nerine, a sea nymph of the ancient world, knows too much about both.
When the dawns visions in the Well of Destiny show Nerine's lover—shipwrecked and drowning—all her renounced yearning for him rises anew.
Somehow—this day, this morning, this time—Nerine must subvert destiny or lose the companion of her heart forever.
Love and coming of age in a mythic Mediterranean where the gods and goddesses of old shape history.
Amazon I Apple I B&N I Kobo I Smashwords I GlobalLink