The Here Be Dragons bundle has three of my titles in it!
They stalk our myths and hunt our past—dragons—humankind's greatest and oldest foe. Good, bad, legendary and deadly. Dare you enter the dragon's lair?

Thirteen tales of dragons, their friends and their foes.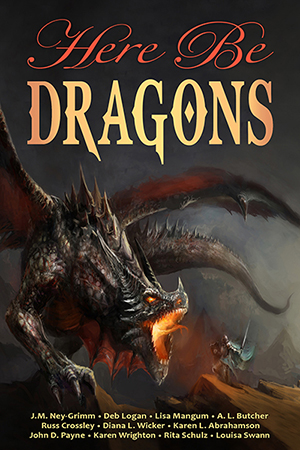 The Crown and the Dragon
by John D. Payne
Dragon Writers (an anthology)
edited by Lisa Mangum
Of Blood and Scales
by A. L. Butcher
Devouring Light
by J.M. Ney-Grimm
Ascension of the Whyte
by Karen Wrighton
Of Dragons and Centaurs
by Deb Logan
Night of the Clockwork Dragon
by Louisa Swann
The Legend of G and the Dragonettes
by Russ Crossley
The Dreamweaver's Journey
by Diana L. Wicker
Graybill by Rita Schulz
Star-drake by J.M. Ney-Grimm
Like At Loch Ness by Karen L. Abrahamson
Winter Glory by J.M. Ney-Grimm

The Here Be Dragons bundle (with 13 titles) is available at Amazon, Barnes & Noble, Kobo, iTunes, or direct from the BundleRabbit site.
For more bundles with my stories in them, see:
Eclectica
Here Be Unicorns
Here Be Merfolk
Here Be Fairies
Immortals