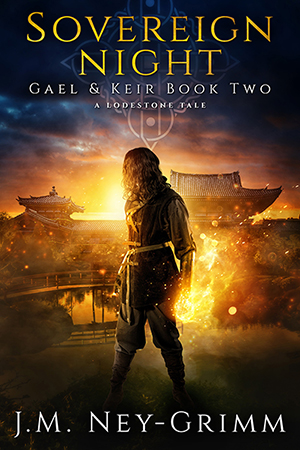 Something is very wrong in Hantida.
Reavers comb the streets and squares of the river city by night, crashing gauntleted fists on a residence gate or a workshop door, and taking . . . a child, a grandmother, or some sleeper who thought himself safe.
Always the reavers emerge from the imperial citadel at the city's heart and return to it before daybreak with their victim—just one.
Gael and Keir, newly arrived in Hantida on a quest for healing, confront the reavers when the bronze-mailed warriors come for a little girl with serious burns.
But more than mere violence lurks behind the abductions—a rotten core of secrets, intrigue, and conspiracy that Gael and Keir must penetrate while still holding true to their quest for healing magic.
Sovereign Night blends mystery with fantasy to tell a swift-paced tale of adventure in a vivid world of magic, shadows, and exotic peril.
Sovereign Night is available as an ebook.
Amazon I B&N I iTunes I Kobo I OverDrive I Smashwords
Sovereign Night is available as a trade paperback.
Amazon I B&N I Book Depository I Mysterious Galaxy Books
You may also order it from your local bookstore.
ISBN-10: 1655772201
ISBN-13: 978-1655772207
EXCERPT FROM SOVEREIGN NIGHT
She and Gael would never really blend in, despite Gael's adoption of the most popular men's hairstyle, and despite the fact that they both wore the local side-fastened robes with asymmetric necklines. At least Gael was not quite the flaring torch that was Keir herself, blond, gray-eyed, and milk-pale complected.
She glanced at him again, and this time he was looking at her.
His olive complexion was browner than she'd known it back in the north, no doubt because of the stronger southern sun, but his skin was healthy and firm, which gave her joy. Lines no longer bracketed his hazel eyes or his firm-lipped mouth, as once they had. His aquiline nose was well-proportioned, also unlike when she'd first worked with him. The strong, square bones of his jaw remained unblurred.
He looked the man he ought to.
The treatment she'd administered back in Belzetarn—nearly eighteen moons ago now—was holding, praise Ionan. If only the lodestone she'd wielded—a rare and magical artifact from the ancient past—were still hers to use. But it wasn't. That lodestone had been ruined.
She straightened her shoulders. That lodestone had been ruined, but at least one other existed. And it was located somewhere in this city. That was why she and Gael were here. If they could obtain it, she could heal Gael and every other individual afflicted with his malady.
Whatever she had to do to obtain this lodestone intact—she would do it.
Gael lifted an eyebrow at her extended scrutiny of him.
Sovereign Night as an ebook: Amazon I B&N I iTunes I Kobo I OverDrive I Smashwords
Sovereign Night as a trade paperback: Amazon I B&N I Book Depository I Mysterious Galaxy Books