Livli's Gift begins with Livli searching the library for a fairy tale she remembers hearing as a child. She has difficulty finding it, because the scroll has been shelved incorrectly.
When she at last succeeds, we learn that the title of the story is The Lindworm and the Queen.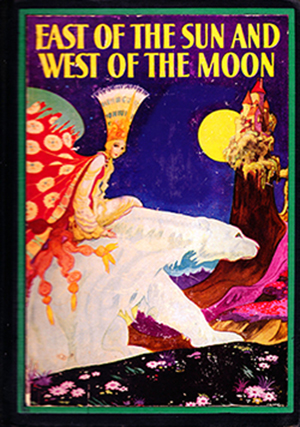 Its first few words read thusly: Once upon a time there was a queen who longed for a child. As she sat in her garden weeping, an old crone approached her and asked her what the matter was. "Oh, no one can help me," sobbed the queen.
Livli does not relay the entirety of the tale, but it clearly has roots in the Norse folk tale "Prince Lindworm," as presented in East of the Sun and West of the Moon.
Was I thinking of the folk tale when I wrote the opening to Livli's Gift?
Yes, I was, but I didn't imagine the Hammarleeding fairy tale to be identical to the Norse one. I didn't even re-read the Norse tale to refresh my memory, because I preferred my memory of it to be as faded as was Livli's!
Here is the start of the Norse version for your enjoyment, however. 😀
Prince Lindworm

Once upon a time, there was a fine young King who was married to the loveliest of Queens. They were exceedingly happy, all but for one thing—they had no children. And this often made them both sad, because the Queen wanted a dear little child to play with, and the King wanted an heir to the kingdom.

One day the Queen went out for a walk by herself, and she met an ugly old woman. The old woman was just like a witch: but she was a nice kind of witch, not the cantankerous sort. She said, "Why do you look so doleful, pretty lady?"

"It's no use my telling you," answered the Queen, "nobody in the world can help me."

"Oh, you never know," said the old woman. "Just you let me hear what your trouble is, and maybe I can put things right."

"My dear woman, how can you?" said the Queen: and she told her, "The King and I have no children: that's why I am so distressed."

"Well, you needn't be," said the old witch. "I can set that right in a twinkling, if only you will do exactly as I tell you. Listen. To-night, at sunset, take a little drinking-cup with two ears," (that is, handles), "and put it bottom upwards on the ground in the north-west corner of your garden. Then go and lift it up to-morrow morning at sunrise, and you will find two roses underneath it, one red and one white. If you eat the red rose, a little boy will be born to you: if you eat the white rose, a little girl will be sent. But, whatever you do, you mustn't eat both the roses, or you'll be sorry,—that I warn you! Only one: remember that!"

"Thank you a thousand times," said the Queen, "this is good news, indeed!" And she wanted to give the old woman her gold ring; but the old woman wouldn't take it.

So the Queen went home and did as she had been told: and the next morning at sunrise she stole out into the garden and lifted up the little drinking-cup. She was surprised, for indeed she hardly expected to see anything. But there were two roses underneath it, one red and one white. And now she was dreadfully puzzled, for she did not know which to choose.
The queen's dilemma is quite different from Livli's. The queen doesn't know whether to hope for a girl or a boy. Livli knows quite clearly that she wants a girl.
The ritual recommended by the helpful old woman is also different. The Norse queen must merely place a cup upside down at a certain spot in her garden. Livli requires "two blown-glass cloches and a few seeds of aegis-rockfoil."
So, given that my Lindworm and the Queen was inspired by "Prince Lindworm," was Livli's Gift itself inspired by the Norse folk tale?
No, actually.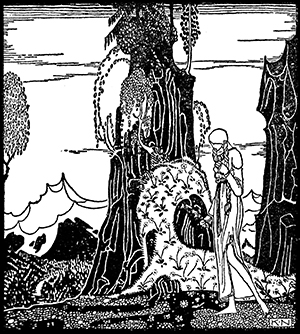 The sprout that became Livli's Gift first appeared in my novel Troll-magic, when Livli's mother Sarvet made a cameo appearance there.
Lorelin, the heroine of Troll-magic, encounters an older Hammarleeding woman who is returning home after visiting her daughter upon the birth of a new grandbaby.
I was moved to tell the Hammarleeding woman's story in Sarvet's Wanderyar. Her daughter's story became Livli's Gift.
For more about the Hammarleedings, see:
What Is a Bednook?
Hammarleeding Fete-days
Pickled Greens, a Hammarleeding Delicacy
The Kaunis Clan Home