Read-Only Beauty started as an assignment in a writing workshop on how to develop ideas for stories. I wrote a story opening inspired by three words chosen at random from a dictionary: read-only-memory, number cruncher, derelict.
The assignment was limited to 500 words, but I couldn't bear to stop there! I turned in the required word count, but kept writing to finish a piece of flash fiction, included in its entirety below.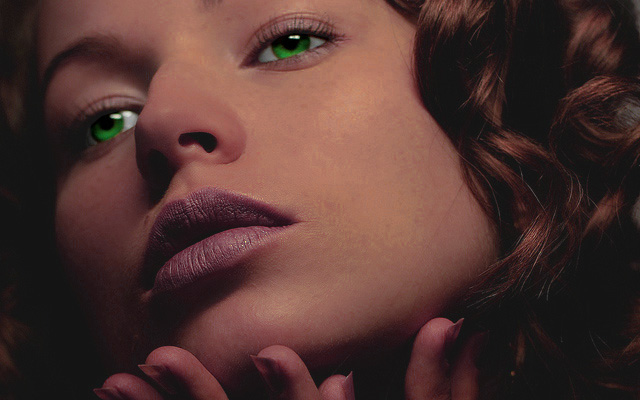 Uzuri woke as from a nightmare, suddenly, horrifically, slamming down on the platform from on high, arching to sitting so fast it gave her whiplash. Her throat was too dry to loose the scream. She swallowed down bitter bile, blinking. It was too soon, too soon, and all wrong.
Someone whimpered. It was her. "Stop, stop it," she whispered.
Her tongue felt stiff inside her mouth, and the light hurt her eyes, indirect, but gleaming from polished white panels. She swung her feet to the floor. Fine flakes of charred dust, like black sand, gritted between her bare soles and the white floor. She stared bewildered at the silvery gown draped over her bony knees, fluttering down to the brown skin of her slender ankles. She inhaled, painfully. What had burned to produce that acrid scent? And why? And where were . . . ?
There should be people around her, steadying her, here in the stasis room. Where were they?
She could remember the hood coming down, her sight dimming, the surgical unit approaching her head. But not here. It was in a hospice suite. And then nothing. What was she doing in this stasis chamber?
Abruptly, she stood. Ran out through the open doorway and along a curving hall. The black cinders scritched under her swift steps. Faint metallic taps sounded from her knees banging her gown, its fabric slightly stiff, slightly silken. The white panels of the walls blurred, but not with speed. Her memory didn't hold them, couldn't hold them.
Where am I? Where am I?
She stopped. Came to herself before an aquarium. Bright golden fishes swam behind the expanse of glass, so calm, so peaceful. The water filter hummed softly, bubbles murmuring as they ascended from its conch-shell housing. A vivid blue beta darted through the school of goldfish. Uzuri's gaze fell to the white pebbles lining the tank's bottom. A fine black ash speckled their pale smoothness.
Oh, god! Oh, god! That fine ash meant something dreadful. She knew it was so.
She ran again.
The grand foyer was still beautiful. Green, twining vines climbed the white support girders. The air smelled fresher. Mosaic murals showed scenes of far-off earth – the sun-drenched isle of Mykonos dreaming amidst ocean, its canopied market, its ruined temples. Uzuri waded in the foyer reflecting pool. The water was cool, chilling her calves. Flat coins pressed the balls of her feet. Coins and the grit of ashes. She fled, splashing down amidst the money, scrambling up, hair dripping and skin slick, her gown still strangely dry.
What had happened? Oh, what?
The Calaeno II was an outpost, so far from 16 Tauri that the blue-white primary burned as merely one star amidst many. Uzuri remembered arriving at the station, watching the revolving spokes within its wheel flash past the star field, wondering if she would see the spectral effects her hypothesis proposed for her observations of the Melotte 22 Open Cluster. She'd been excited, her first trip out from the mother planet, her first posting out of university. She remembered. She remembered that. But . . . what came after?
The hood came down. Her vision dimmed. The surgical unit approached. Oh, god!
She was standing in front of a wall monitor, gesturing with one hand: page down, page down, page down. The records flickered by.
Patient: Uzuri Beleza. Human female. Standard mods: joint enhancement, collagen longevity, memory capacity.
Flick.
Diagnosis: Memory circuit malfunction. Read-only, functional. Read-and-write, inoperative.
Flick.
A sprawling and obscure circuitry diagram.
Flick.
Treatment plan: Stasis, followed by surgical replacement when supply ship arrives with microcircuit #THC313.
Flick.
Treatment administered: Stasis initiated, 8*6*2787
Flick, flick.
File Accessed: 11*6*2791 user UBeleza
File Accessed: 11*7*2791 user UBeleza
File Accessed: 11*8*2791 user UBeleza
File Accessed: 11*9*2791 user UBeleza
She sank to her knees, cinders grinding between bone and floor tile, denting the skin, ashy gray with dryness and unattractive. She bent. Her tears fell, flushing her dry knees to rich brown with their wetness. Oh, god, oh, god! Please help me, please help.
The hood descended. Her eyes grew blind. The surgical unit approached.
She fled down corridors of unformed memory. What has happened? What's wrong? Where am I?
She stood in the observation lounge. Gritty cinders rendered the plush matting uncomfortable, the chairs and divans, likewise. She reached out to touch the transparent wall before her, spread her fingers against the clear ceram-glass. The vast dark of night cloaked infinity, a well down which Calaeno II – and Uzuri – fell endlessly. The stars wheeled, a begemmed veil of blue and white and red sparks, unwinking save for the Crab pulsar, throbbing violet near the center of rotation. Beautiful. It was beautiful. But, oh! She needed more.
The hood came down. Her blindness commenced. The surgery began.
When had beauty proffered succor?
She was running, seeking someone, seeking help.
Another monitor confronted her gaze. With images out of nightmare. Was it this from which she'd woken?
Flick, flick.
There was fire without flames. Incandescent. A sea of plasma. How was it that the water never boiled, the leaves of the grape ivy did not char?
The fire glowed, then ebbed. And there were ashes, everywhere ashes, falling through the air, falling to lie on the water and sink, falling to coat the floors. "My people, oh, my people," she whispered. They were ash, only ash, and would never live again.
The hood. The blindness. The approach.
How much time passed between that moment of read-only memory and the next? It was blank, and blank again.
She stood watching stars. The pulsar winked within night's robe. A streak of silver rent its breast. And her eyes were dry, so dry. She was scared.
* * *
For more flash fiction, see:
Mother's Gift
The Old Armory: Blood Falchion
The Old Armory: Hunting Wild