The Tally Master is now out in trade paperback!
I find the book to be beautiful, and for several days after I received my copy, I kept it on the coffee table in the living room, so that I could pick it up and admire it every time I passed nearby. Now it's on a bookshelf, but I keep taking it down to look it over – gorgeous cover, beautifully framed frontispiece, wonderful map, and so on – wanting to prove to myself all over again that it really does exist. 😉
I've enrolled the book in Amazon's Matchbook program, which means that if you purchase the paperback first, you can then buy the ebook edition at a discount. As a reader myself, I've found that for certain books I want the paper edition sitting on my bookshelf, while I tote a convenient digital reading copy on my e-reader when I'm out and about. Perhaps some of you might own to a similar preference.
As I type this, the paperback Tally is available at Amazon, CreateSpace, or Barnes & Noble. Over the next 8 weeks (or so), it will wend its way through the distribution chain to reach bookstores such as the Book Depository and Powell's.
* * *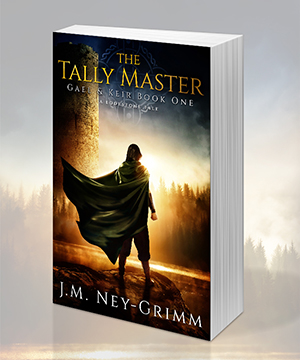 Seven years ago, reeling from a curse in the wake of battle, Gael sought sanctuary and found it in a most perilous place.
The citadel of a troll warlord—haunt of the desperate and violent—proves a harsh refuge for a civilized mage. But Gael wields power enough to create an oasis of order amidst the chaos.
Now master of the metals that flow to the citadel's weapon forges, Gael rules his tally room unchallenged, until he discovers a theft within its vaults.
Gael loves the quiet certainty of black ink tally marks on smooth parchment, but his search for the thief leads to a maze of unexpected answers, putting his hard-won sanctuary—and his life—at risk.
Set in the Bronze Age of J.M. Ney-Grimm's North-lands, The Tally Master brings mystery and secrets to epic fantasy in a suspenseful tale of betrayal and redemption.
* * *
Order the trade paperback online from Amazon, CreateSpace, or Barnes & Noble.
You may also order it from your local bookstore:
ISBN-10: 1546516530
ISBN-13: 978-1546516538.
Of course, The Tally Master continues to be available as an ebook from Amazon.