Fourth in my series of story openings. Inspired by a nightmare. Beware!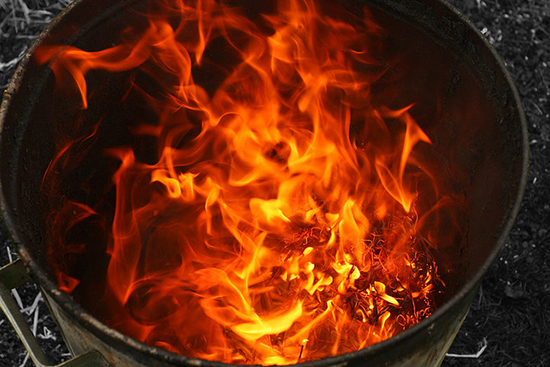 Something was wrong. Very wrong.
She shivered even though she wasn't cold, feeling a frisson of horror move though her.
The street lights glowed dimly, obscured by a faint mist in the growing dusk. She looked right, looked left. No traffic, even here at a corner. Just the same patched asphalt lined by low anonymous brick buildings and deserted.
She shivered again and stepped from the curb. Why didn't her footsteps sound as they should, hurried slaps of shoe leather on paving? The world seemed strangely muted.
She reached the opposite curb, stepped up on the buckled surface of a sidewalk in poor repair. Should she turn? Try another route? These soulless streets chilled her.
A drift of muffled laughter snatched her attention. There! Up ahead.
She broke into a run, leaving the humped sidewalk for the more level roadway. A warmer glow of light flickered in an abandoned lot. Firelight? Here?
And where was here? She didn't know. Only that it was unfriendly, empty, and nowhere known to her. I'm lost.
Five men huddled around the rusted steel barrel, ragged coats unbuttoned, mugs of – coffee? yes, coffee – wrapped in their knobby hands. She couldn't smell the rich aroma of the brew. Wished she could taste it, real and hot. How did she know it wasn't liquor? It should be liquor. These were homeless men, warming themselves around trash burning in a barrel.
She approached them, tripping over a half-buried fragment of tire tread, feeling the scritch of brittle grass against her ankles. Why did her body feel so lethargic? Why was she cool, as though blown by the breeze of a ceiling fan, but not cold? It was winter.
She tried to speak, "Please. Please help me," but nothing came out. The men didn't see her. They gestured to one another, laughing again at a joke, their pinched faces illuminated by humor and snapping flames.
Please. See me. Let me in.
She was running again, unnoticed by the men, running from their unconscious rebuff.
* * *
For more science fiction samples, see:
Dragon's Tooth
Fox in the Hen Coop
For a fantasy sample, see:
Witch's Sweet