This tale of a reluctant nymph and her unlikely helper tickles me, but it feels like a full novel. It will be some time in the writing, when I tackle it. I will tackle it. Too much fun to allow it to linger unwritten!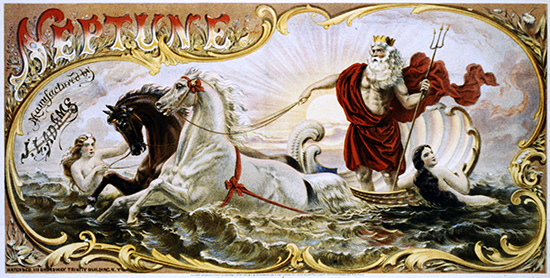 Glauce pummeled the massive green shoulder under her hands. Slick as an eel and slimy to boot. Great gods and little fishes, how she hated it!
She looked around her a little wildly. Echoing grotto with the generous rocky shelf where she knelt. Check. Rushing waves plowing in through the opening to the sea. Check. Posing, preening nymphs awaiting their master's whim. Check. But no way out for Glauce.
Salt sweat dripped down her nose, fell through the briny air, sparkling, and plopped onto a colossal bicep.
"Lick it off!" roared Neptune.
Glauce winced. Ugh! And bent her face down toward the smelly green flesh of her liege. She hesitated.
"Now!" he growled.
She licked. It was fishy. It was salty. It was yuck. She exchanged glances with Xantho beside her, working rather lower down. Xantho's duties were more intimate than Glauce's. How could she stand it, letting this vengeful despot between her legs? But Xantho looked amused, not disgusted.
Glauce moved to the other shoulder.
"Not there, nymph! Lower!" insisted her lord and master.
She sighed and joined Xantho on his gluteus maximus. Thank Zeus he was lying on his belly, nasty immortal! Her hands dug into the mass of muscle, taking more and more of her weight in order to generate the pressure Neptune preferred.
"Harder!"
Clouds above and waves below! She was practically in a crane pose. What more did he want?
She allowed her legs to rise from the god's couch – balanced a half heartbeat on her palms – then skidded down the slope of Neptune's hip, pinching his left love handle as she went.
"Aaaugh! Out!" yelled Neptune.
Well, Glauce was fine with that. She went, pondering ways and means while pattering down the tunnel that led from the god's cavernous hall to the chambers of his harem. "I've been planning escape too long," she muttered. "It's time to stop planning, time to start doing, blast it!"
Head down, she rounded the curve by the marina and ploughed smack into Psamathe, the demi-goddess who managed Neptune's sea palace.
"Oofa!"
"Sorry!" murmured Glauce. Could she get away with the apology and then scurry on down the passage?
No. Psamathe's hand secured her elbow; another tipped Glauce's chin. The sea nymph looked up, perforce, trying to hunch back down.
* * *
For more fantasy samples, see:
Fate's Door
Hunting Wild
For a science fiction sample, see:
Last Tide