This feels like a good week for a story opening. It follows!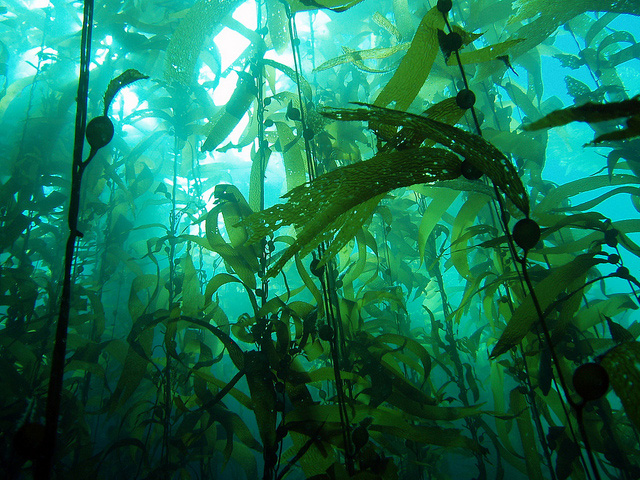 One minute it was hot terror and noise – the creature's roaring – and the sick sweet smell of blood.
The next, James thrust her through the portal into water and the strange rippling quiet of water-plugged ears. She'd swallowed the small of mouthful of bitter brine forced through her lips in the abrupt transition and kicked out, grateful for the lungful of air she'd brought with her.
Sunlight filtered down through cool turquoise liquid and fronds waving from the vast columns of a kelp forest. The slippery brush of fish tickled her shoulders as she stroked forward through a school of goatfins.
She was counting: two massive pillars of leafy green on the right, bend around one on the left, then another straight ahead. Her lungs were starting to ache. I can do this, she reminded herself. I've done it before.
One breath was enough.
Enough for her, that is. Sam could swim; liked to swim. But there was a reason beyond the inconvenience of getting wet on their way to the dig that her cohort of XT archaeologists took the longer route through three portals to get to Eridani Four.
She kicked around the last column of kelp and angled downward, down along a coral bluff toward the cave that . . . wasn't there. Shit!
She drifted one heartbeat in stunned amazement, then curled to let her feet swing around and push off the rough cliff face, propelling her back the way she'd come.
Jesu-Yosef-Marie! How could it be gone?
And how could she be swimming back toward the cavern she'd just left? The others would be gone. James too. Before her head followed the rest of her through the water portal, she'd seen him scramble under the creature's rusty fangs, snatching Nonsin from the rocky floor as he dove for the other portal.
But she needed air. Even she couldn't go for much more than half a minute.
She stroked steadily, ignoring the growing ache in her lungs, counting again. One straight ahead, one on her right, two on her left. Shit!
Shit, shit, shit!
The bluff on this side of the underwater ravine . . . wasn't. No bluff, no hollow in the coral, no portal. The ache in her lungs shaded into pain. Cristos! In another heartbeat she'd gulp water, convinced it was air, anything to feed her screaming need to breathe.
She kicked again. I won't breathe. I'll swim. And swim and swim. Her eyes began to burn from the salt. Or was she crying? How could you tell underwater?
Pull, kick, glide. She could hear her old swim teacher in her head. "Glide, Samantha, glide!"
A shadow darkened the water around her.
What?
She looked up. Blessed Marie, yes! An outcropping of coral loomed over her with a dimple on its belly and a swirl of rainbow dust in the dimple: a portal. An unmapped one.
She kicked upward frantically, fighting her body's imperative to inhale.
Just. One. More. Kick.
And she was through. But where? And into what?
* * *
For more science fiction samples, see:
Dragon's Tooth
Dream Trap
For a fantasy sample, see:
The Green Knight