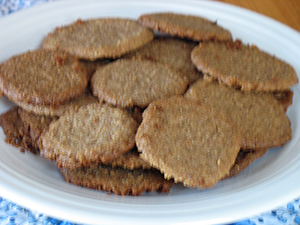 The first pie crust cookies were frugality run amok.
I was baking an apple pie with my son and enjoying it. We tried a new recipe for the crust, based on pecans. The recipe was intended for a custard pie that didn't require a top crust. But apple pies need them, and ours was mounded super high with apples. We made more than a double recipe to be sure to have enough dough. Which yielded too much, of course.
Not wanting to waste it, we made the extra into cookies. And they were melt-in-your-mouth delicious. Yum!
The next time we baked together, we made pie crust cookies on purpose!
Here's how we did it.
A Note on Ingredients
This recipe will work with ordinary whole wheat flour, instead of sprouted whole wheat flour. You may also use raw pecans, rather than crisp pecans. But I urge you to use the sprouted flour and the crisp nuts.
Grains, nuts, and seeds contain phytic acid. Phytic acid prevents the seed or nut from sprouting until it is in contact with the moist earth that will permit the plant to flourish. Which means it prevents enzymes from working. But you want the enzymes in your body to work! You'll digest your food more completely and receive more of its nourishment. Plus phytic acid is an irritant. Properly preparing seeds, nuts, and grains neutralizes phytic acid. You can read more about this important principle of nutrition here.
Many health food stores carry sprouted whole wheat flour. I buy mine at Whole Foods. Some health food stores carry sprouted nuts. Sprouted nuts can safely be used instead of crisp nuts. The recipe for crisp pecans follows the one for the cookies below.

Ingredients
2 cups crisp pecans
1-1/2 cups sprouted whole wheat flour
1/2 cup evaporated cane juice
1/2 teaspoon Celtic sea salt
3/8 cup butter
3/8 cup unrefined coconut oil
1 teaspoon vanilla
Directions
Put pecans, flour, sugar, and salt in food processor and process until nuts are ground and all ingredients well mixed.
Add butter, coconut oil, and vanilla.
Process until the mixture forms a ball.
Place half of the dough on a sheet of wax paper.
Use a rolling pin to roll out dough between 2 sheets of wax paper. Be careful when you pull the top sheet up, since the dough is both delicate and sticky.
Use a cookie cutter or a small glass to make small round cookies. You may form the leftover dough into small cookies. The dough is delicate, but will not suffer from this extra handling.
Place cookie rounds on cookie sheets covered with baking parchment.
Bake in pre-heated 375º F oven for 10 minutes. Cool cookies on cookie sheets for about 2 minutes.
Remove cookies to cooling racks and cool completely. The cookies are fragile, but they truly do melt in your mouth.
Crisp Pecans
Use these as a topping on oatmeal, in the cookie recipe above, or as a snack.
Ingredients
4 cups raw pecans
2 teaspoons Celtic sea salt
filtered water to cover nuts
Directions
Mix the salt with the filtered water and soak the nuts in it overnight (at least 7 hours).
Next day, drain the nuts in a colander.
Put baking parchment on a baking sheet. Spread the nuts evenly on it. Place in oven, turn on to 150ºF and "bake" for 12-24 hours, until completely dry and crisp. Stir the nuts with a spoon and re-spread them occasionally. (If you have a food dehydrator, use that!)
Store the nuts in an air-tight container.
This crisp nut recipe may be used for walnuts, almonds, or macadamias. Do not use it for cashews. Cashews are not raw when they come to us. They contain a toxic oil that must be released and removed by two separate heatings before humans can eat them safely. This means that they'll get slimy and nasty if soaked too long or dried too slowly. Soak them at most 6 hours. Dry them in a 200ºF oven.
Note: Walnuts, alone of all the nuts, must be stored in the refrigerator. Their unique composition of oils will go rancid at room temperature. The other nuts may be safely stored at room temperature.
For another dessert recipe, see:
Coconut Chocolates
For more on nutrition, see:
Butter and Cream and Coconut, Oh My!
Test first, then conclude