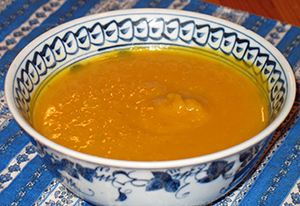 Visiting family over the holidays, I encountered the most scrumptious soup. Flavorful. Satisfying. Delicious.
I had seconds. Maybe even thirds. And begged the cook for her recipe.
I tried that recipe at home to great success. Yes! Mine tasted almost as good as hers.
When I asked her if I could feature it on my blog, she said, "Yes." 😀
So here it is!

Ingredients
2 butternut squashes
1 medium onion, chopped
3 short stalks celery, chopped
(about 2/3 cup)
1 clove garlic, minced
2 tablespoons olive oil
1 teaspoon cumin
1/4 teaspoon ground red pepper
tiny pinch of ground cloves
1/8 teaspoon cinnamon
4 cups chicken broth
(vegetable broth works fine,
if cooking for vegetarians)
1/4 cup heavy cream
Directions
Bake the squashes whole at 350°F for an hour and a half. Let cool.
Sauté the onion, celery, and garlic in olive oil. Add the spices and continue to cook until the celery and onions are softened. Remove from heat and let cool.
Cut the squashes in half. Scoop out the seeds and discard them. Scoop out the squash flesh. (Discard the outer rind.) Purée the squash in a food processor (or blender). Pour the purée into a large pot. (Or a large bowl.)
Purée the onion-celery mixture in a food processor (or blender). Add this to the pot.
Add the broth and stir. Warm the soup on the stove top for a few minutes. (Or store the soup in two 2-quart bottles in the fridge. And heat later in the microwave by the bowl-full.)
Add a generous spoonful of cream to each bowl, when you serve it.
Makes 4 quarts.
For more recipes, see:
Coconut Salmon
Baked Apples
Oatmeal, Rice, & Granola