It's rather difficult to report on a book that does not yet have a title. How do I specify the book I mean?
The working title was To Thread the Labyrinth. When I completed my first draft, I thought I might drop the "To" and call it Thread the Labyrinth. (The story does feature a physical labyrinth, as well as a metaphysical one). But my second reader pointed out some cogent reasons why highlighting the labyrinth in the title might not be a good idea.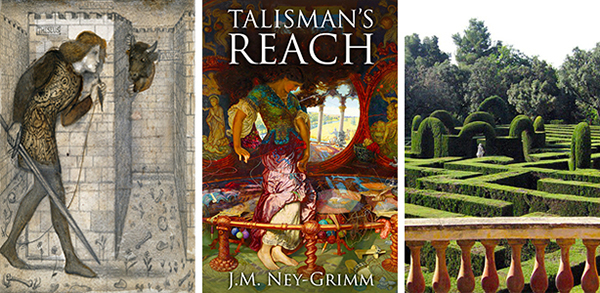 My next idea for the title was A Legacy Arcane, but my first reader found that overly dark, while my second reader felt that the legacy reference was too oblique.
My first reader then suggested Talisman's Reach, and I liked it. I liked it a lot! So did my son and my daughter. I thought I had my title! But then it was pointed out to me that the talisman in my story is never once referred to by that word. So now I am cast into confusion again.
Be that as it may, I do have progress to report!
My first revision pass in September was the most extensive, following the excellent feedback I received from my first reader. My second revision pass in October caught some really important details pointed out by my equally excellent second reader.
This week I fixed all of the typos plus a few other telling specifics found by my superb proofreader.
The book is ready to enter the production process that will make it into both an ebook and a paperback!
But I need a title first.
::puts thinking cap back on:: 😀