Two of my titles have been chosen for a new bundle!
In addition to my own Troll-magic and Hunting Wild, Here Be Magic includes 5 novels plus 5 shorts and a short story collection.

I'm a fan of Dayle Dermatis' work, so I'm particularly eager to read her "Good Scrying Gone Bad."
The opening for "Shakespeare's Curse" hooked me, as did that of "The Warrior's Curse." And the premise of "Words of Rain and Shadow" intrigues me.
I suspect I have some good reading ahead of me. Perhaps you do, too! 😀
*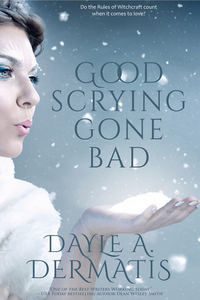 The First Rule of Witchcraft: Harm none.
The Second Rule of Witchcraft: Practice magic only when you're clear of mind.
That includes not practicing magic while drunk.
When drunken scrying goes awry, Madison connects with Brody, a cute guy trapped…somewhere. Freeing him becomes her obsession.
Does the Second Rule of Witchcraft count when it comes to love?
*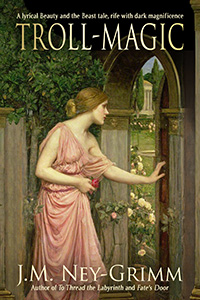 Prince Kellor, cursed by the troll-witch Mandine to live as a north-bear, wrestles with the challenges of his beast form. Pain wracks his body, and unpredictable rages blur his mind.
His childhood friend Elle holds the key to his escape, but should he endanger her by seeking her help?
A lyrical Beauty and the Beast tale, rife with shining glory, dark magnificence, and unexpected significance.


*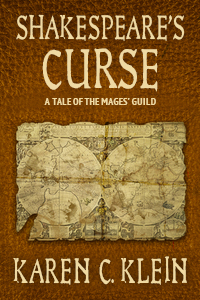 Teneyros—a young and ambitious wizard—hears rumors that the Elder of Scrolls Anansi intends to retire.
Anansi loves tricks. He envisions his successor as the trickiest of tricksters. Only the wiliest must win his position and lead the wizards of the world.
Teneyros plays Anansi's game against his brother as well as their rival, Ben Jonson. Who will win and who will lose? Who will be the Elder of Scrolls?


*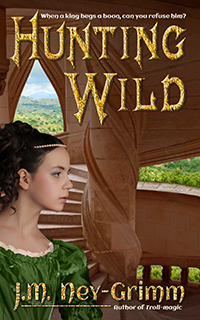 Young Remeya worships the forbidden horned god. A worship made taboo half a millennium ago. Performed still in secret by a few. Quietly tolerated by the king.
Epic fantasy in which old beliefs and old loyalties clash with hidden magic in the Middle Ages of the god-touched North-lands.






*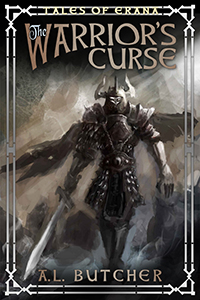 He who bargains with monsters beware!
A hero forges an unholy bargain with a witch and learns that magic never forgets.









*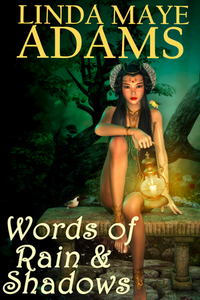 The Shadow Folk attack when it rains.
Only Irinia can hear their voices. But the village seer refuses to listen to her. Women can't be seers.
She must earn the trust of the village, and fast.
Because the rain brings death.






Magic invites . . .

Curses and blessing, sorcerous time travel, shape-shifters, hidden enchantment and corrupted blood.

Magic demands . . .

Saving those you love, courage, betrayal and fights against unspeakable forces.

Magic promises . . .

Last best hopes, reluctant and desperate heroes, ancient power unleashed and the compulsion to overcome death itself.

Magic risks . . .

Forbidden spells and deadly bargains.

Here be magic!

From life to death, from realm to realm, from past to future and in between—dare you adventure with wizards?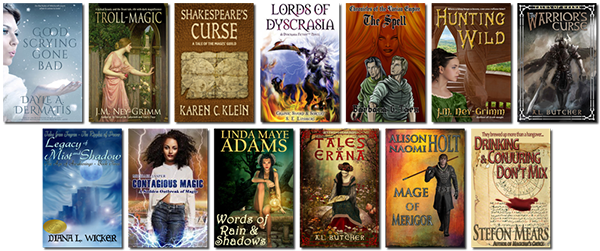 "Good Scrying Gone Bad" by Dayle A. Dermatis
Troll-magic by J.M. Ney-Grimm
"Shakespeare's Curse" by Karen C. Klein
Lords of Dyscrasia by S.E. Lindberg
The Spell by Barbara G. Tarn
Hunting Wild by J.M. Ney-Grimm
"The Warrior's Curse" by A. L. Butcher
Legacy of Mist and Shadow by Diana L. Wicker
A Sudden Outbreak of Magic by Michael Jasper
"Words of Rain and Shadows" by Linda Maye Adams
Tales of Erana by A. L. Butcher
Mage of Merigor by Alison Naomi Holt
"Drinking & Conjuring Don't Mix" by Stefon Mears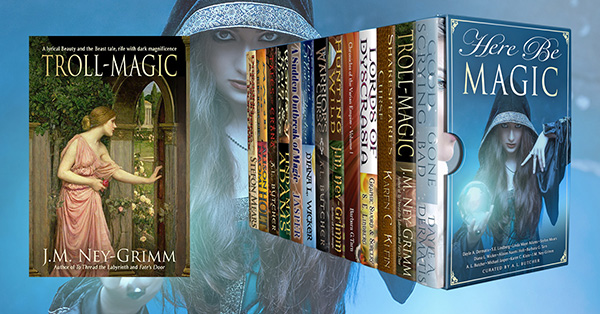 The Here Be Magic bundle is available at Amazon, Barnes & Noble, Kobo, iTunes, or direct from the BundleRabbit site.
For more bundles with my stories in them, see:
Eclectica
Here Be Unicorns
Here Be Merfolk
Here Be Fairies
Here Be Dragons
Immortals