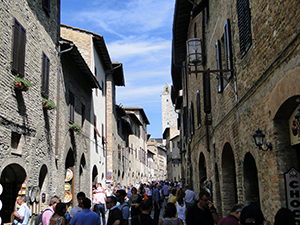 Across a sennight, Lorelin Ingesdotter welcomed three interviewers to the stucco rowhouse that is her home in the capital city of the Empire of Giralliya.
A crier for the Bazinthiad Bulletin – writing a piece on the new clinics jointly funded by the Ministries of Incantors and Antiphoners – wanted to know all about Lorelin's role in the research on troll-disease.
The imperial scribe proclaimed a similar interest, but in service to scholarship rather than news. "Emperador Zaiger exhorts me to record the details scrupulously," he explained. "Our times present a cusp of history. Great events hinge upon the discoveries in the Old Armory under Gabris and Panos."
The third questioner was the only one interested in Lorelin herself. She preferred his predecessors: her research under Gabris fascinates her, and she would happily describe it to a dozen inquirers. But she received the secretary to the Famille de la Royaume civilly, warming to his curiosity once she perceived his interest to be genuine.
His position as historian for the deposed ruling family of Pavelle obliged him to seek out and write down the fate of Prince Kellor. His passion for the history of the annexed principality was all his own. And he wanted more than the surface story. Who was Lorelin deep down? How had her essential nature brought her to chose an abdicated royal as her life companion?
Sipping ginger punch, while seated on a cushioned divan in Lorelin's parlor, he conversed with her.
Secretary: What was your first reaction upon meeting Kellor Gide de la Royaume?
Lorelin: Goodness! I expected one of the Eransdotter sisters with a kettle of soup. When I opened our front door, I thought I was gripped by a fever dream, of course.
Secretary (puzzled, then his face clears): Ah! Milady, you mistake. I meant your introduction to the crown prince in your childhood, rather than the renewal of your acquaintance with him when you were both grown.
Lorelin (laughing): Of course. He was living in cognito then; I'd no notion of his rank and proper station. And he was the first friend to share my love of nature so thoroughly. We used to get so grubby, searching through the woods for fox spoor and gryphon prints. (renewed laughter) But Motter never complained when I returned home covered in mud. (thoughtful pause) Gide and I gazed out at the world together, and sometimes it seemed he saw through my eyes, so alike were our thoughts and feelings. (reminiscent smile) We grew close.
Secretary: Why did you bring your sister with you to the underground palace inhabited by Prince Kellor while he suffered under the curse?
Lorelin: I didn't. Irisa invited herself, and I tried to talk her out of it. (pause for reflection) I'm glad she was stubborn.
Secretary: What were your dreams for yourself before you committed to lifting Prince Kellor's curse? And how did they change as a result of your sojourn in the cavern palace?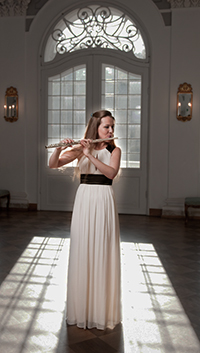 Lorelin (lightly): Oh, I wanted to play flute in a quartet of musicians in Ringestad. (capital of Silmaren, Lorelin's homeland) But I hadn't the faintest notion of how to go about it. I learned so much in Kellor's Lainkath. If things had gone differently, if I'd managed to stay the full year and a day, I'd have gained the confidence to try for that quartet. But I didn't. And I learned that adding Kellor's dreams to my own made life so much richer. I never dreamed I'd be here in Bazinthiad, and it's fabulous.
Secretary: You are happy in your marriage?
Lorelin: (blushing, nods)
Secretary: How might you have felt if living with the Dowager Princess Mandine were required?
Lorelin (softly): I never met Mandine, only her sad remnant, eroded by years of illness.
Secretary: Were the principality of Pavelle to regain its independence, with its sovereign rule restored, would you urge Prince Kellor to resume his throne?
Lorelin (shocked): That's treason you're speaking. And Kellor no longer bears that title. (stern glance) But no. (firmly) Neither of us likes governance and politics. Ugh!
Secretary: Beg pardon, milady.
Lorelin (inclining her head): Very well. (pausing) I wish you wouldn't call me that!
Secretary: It is your ladyship's proper title.
Lorelin: But I'm used to Froiken Ingesdotter.
Secretary: Even in Silamren, you would be Dame Ingesdotter now.
Lorelin (acquiesing): True.
Secretary (uneasily): I have another difficult question, milady.
Lorelin: A treasonous question?
Secretary: No. Personal.
Lorelin (smile peeping): I don't promise to answer.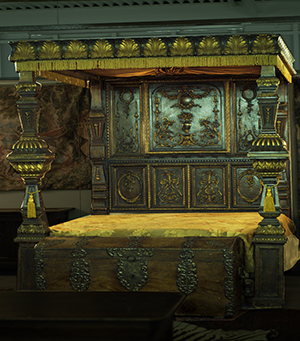 Secretary: Were you . . . known (turning beet red) . . . by the prince before your marriage?
Lorelin: Oh! No wonder you worried about asking that one. I wouldn't answer, except that the answer is no. Kellor was entirely a gentleman, despite slumbering in my bed.
Secretary: There were rumors that the curse required . . .
Lorelin (crisply): It didn't. Although I gather Kellor worried about that when he was most muddled.
Secretary: No offense intended, milady.
Lorelin: None taken.
Secretary: In your own words, would you relate the whole story?
Lorelin: It will take some time. (she'd been expecting this)
Secretary: My time is yours to command.
Lorelin (smiling): Very well.
(Extended portion of dialog omitted. Grin! Surely you didn't want me to inflict paragraphs of spoilers on you, when you haven't yet read the book? Although I do apologize for skating perilously close to the secrets in Troll-magic with my transcription of this interview. And if you have read it . . . well, you know!)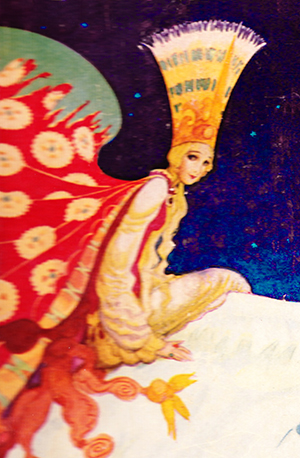 Secretary: What is the one piece of advice you'd bestow on readers of this history?
Lorelin (thoughtfully): Dream big, and then do the next right thing, even if it's very small. Sometimes the narrowest of openings is all that's required for a gift of life to pass through. And even if you don't arrive where you've aimed, your destiny may be even more marvelous. (eyes shining) Mine is.
For more about the world of Troll-magic, see:
Behind Troll-magic
Who's Who in Troll-magic
Families in Troll-magic
Bazinthiad's Fashions
Bazinthiad, A Quick Tour of the City
Magic in the North-lands
Magic in Silmaren
Radices and Arcs
Mandine's Curse
The Suppressed Verses
The Accidental Herbalist
What Happened to Bazel?