When I first encountered that word, insulinogenic, I completely garbled its pronunciation. In-su-lino-whadya-hooya? What the Hades?

In-su-lino-gen-ic. Right.
So what does it mean? It means something that stimulates the production of insulin. In the context of milk, it means that milk produces a much bigger insulin response in the human body than it has any right to, given the amount of carbohydrates present in milk, mostly in the form of the milk sugar lactose. Milk punches so high above its carb content that it produces an insulin response like that of white bread!
Why is this of concern to me?
Well…when I was diagnosed with osteoporosis, I really stepped up my milk intake. I didn't know that milk was insulinogenic, and I did know that my bones could use all the help they could get.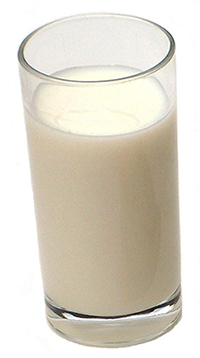 I found it difficult to drink 4 cups a day, so I began adding a pinch of stevia along with cocoa powder to my evening milk. Yum! It tasted like dessert!
Meanwhile, my weight had been creeping up. There seemed to be several obvious reasons for that. I had two health problems in sequence that kept me away from the gym for nearly 2 years. I'd allowed pasta back into my menu, perhaps once every 10 days. And I was getting into my middle fifties. I didn't like the upward creep, naturally.
I was relieved when I resolved my health problems enough to return to the gym in May 2016. And I rededicated myself to kicking the pasta back out of my menu. Remembering when I tried Phil Maffetone's 2-week test with such stellar results, I expected to see the start of a drop in weight. Imagine my surprise when I continued to gain!
"How can this be?" I asked myself. "I'm swimming three times a week. Lifting weights two or three times a week. I'm eating fewer than 50 grams of carbs per day. My calorie intake is modest; I've never been a big overeater. What the Hades gives?"
This unfortunate upward trend continued. "I wonder if it is the milk?" I asked myself.
You would think I might have done some more reading about milk, but I didn't. I was attached to my milk. Besides, it was healthy milk from grass-fed cows lovingly tended by my local farmer, who had managed the apprentices at the famous Polyface Farm. It couldn't be the milk!
I tried to cut down and found that I couldn't. Oh, oh! Was I addicted to milk?
Finally, in November 2016, after months of "quitting milk" and then "I'll just have one last big glass tonight," I decided I needed support. I'd visited a website devoted to the Whole30 way of eating some while back and noted that the Whole30 was the way I wanted to eat and that the site had forums. A forum sounded like exactly what I needed.
And it was!
Hanging out with a bunch of others who were eating the same way I wanted to eat – and posting on my progress – enabled me to give up the milk and ditch the last remnants of pasta. I saw almost immediate results. I had an annual exam scheduled with my doctor 3 weeks after I started my Whole30, and I found I'd lost 7 pounds. Without counting calories. Just by waving goodbye to milk. (Since I doubt my previous once or twice a month indulgence in pasta was the key to my previous weight gain.)
I also found my energy levels increasing and my mood improving. I felt good!
After 30 days of no milk (and no grains, no legumes, and no sugar – none), I'd lost 9 pounds. I decided to carry on as I was. I liked how I felt, I liked all the new meals I'd learned how to cook, I liked everything about my new routine. So far, I'm still losing weight, 20 pounds and counting at about one-and-a-half pounds per week. My yoga pants are beginning to get too loose!
It was only after these stellar results that I did a little researching on milk and learned that it is highly insulinogenic. Even my healthy milk from a local dairy farm run by a super careful and informed grass farmer.
When I was younger, I could get away with eating insulinogenic foods. At least, they didn't pack the pounds on me, although – looking back – they did have other more subtle negative effects. But as I've gotten older, insulin in my bloodstream started to have the effect that it does in many, acting as a one-way gatekeeper that packs fat into the fat cells and doesn't allow any withdrawals of that fat for energy. No more milk for this lady!
But what will I do for my osteoporosis?
That's another blog post. Which I will write. I also plan to share more about my adventures with the Whole30 in future posts. But this is enough for now. 😀
For more about the effects of insulin, see:
Test first, then conclude!
For more on nutrition, see:
Why Seed Oils Are Dangerous
Thinner and Healthier
Butter and Cream and Coconut, Oh My!
Can't wait for my future posts to learn more about the Whole30? See:
Whole30.com