The wealth of Belzetarn is measured in its metals.
How many ingots of bronze, copper, and tin – tin, so rare – lie in its vaults? How many bronze swords? How many shirts of bronze scale?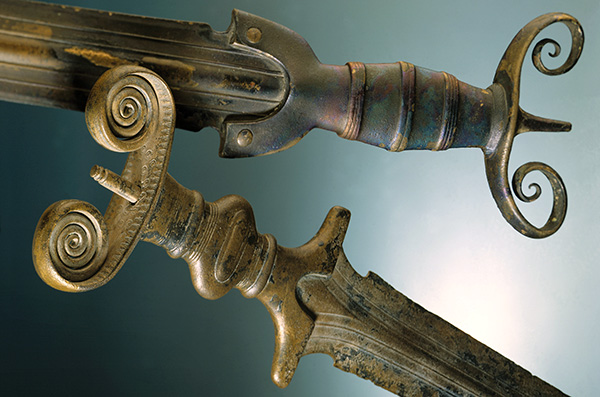 The technologies required to make superior weapons and tools of iron don't exist yet, but those for the working of bronze are well developed, and the bronze implements of Belzetarn rarely fail. Were it not for the scarcity of tin, the denizens of the citadel would be well equipped. But tin is incredibly rare, and every grain of it must be well guarded.
Gael, the tally master of Belzetarn, is the one who ensures that none of the tin – or any of the metals – is lost or stolen. The day he discovers that his vaults are one ingot short is grievous!
* * *
In order to write The Tally Master, I needed to know a fair bit about metallurgy, about mining, about smithing, and about the shape and size of ingots through history. I researched all of these elements, and some pertinent bits have made their way into the book's appendices. Here is a sneak preview of the appendix on ingots.
About Tin, Copper, and Bronze Ingots
The ingots issuing from Belzetarn's copper mines are massive 'oxhides' shaped like an animal hide with four 'legs' that make it possible to carry them. They weigh 80 pounds and measure roughly 70 centimeters (~28 inches) long by 40 centimeters (16 inches) wide by 5 centimeters (~2 inches) thick.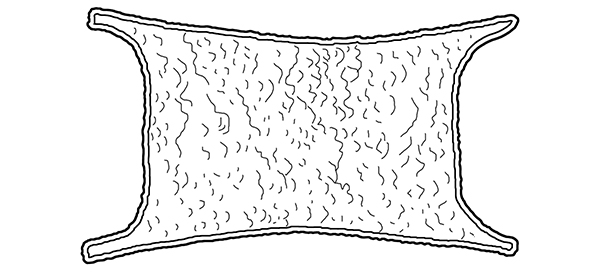 Belzetarn's tinworks yield 'pebbles' created in a rough smelting on site. These pebbles are transported to the citadel's forges in sacks loaded onto a mule.

Neither the copper oxhides nor the tin pebbles are pure enough for immediate use. Both must be smelted again to remove impurities, and the resulting high-quality metal is poured into molds which create small ingots shaped vaguely like hats.

These 'hat' ingots each weigh one pound and measure roughly 9 centimeters (~3.5 inches) per side of the 'hat brim' – the widest part. The 'crown' rises 4.2 centimeters (~2 inches) high.
Tin is the least dense of the three relevant metals – tin, bronze, and copper – and the tin hat ingots have a thickness of 2.421 millimeters. Bronze, with more density, yields ingots 2 millimeters thick. And copper, the most dense, possesses ingots of 1.995 millimeters thickness.
The hat ingots are shaped to nest in neat stacks. But because of their different thicknesses, stacks composed of the different metals would wobble a bit, while stacks of all tin, all copper, or all bronze are very stable.
The smiths of the individual forges – sword, armor, and privy – each create their own bronze from the tin and copper hat ingots, because each requires a slightly different ratio of tin to copper. Any leftover bronze is poured into its own hat ingots. The blade smith regularly produces one bronze ingot every day, so precise and standardized are his processes.
The privy smith, who makes tools and household implements for the citadel, is experimenting wildly with different metal mixtures. He rarely has enough leftover bronze to pour an entire ingot, so his leftovers return to storage at the end of the day as a lump which is weighed.
The armor smithy always needs wire (to 'sew' the many small platelets of bronze into mail shirts), so any excess bronze is poured into long narrow molds, yielding metal that can be readily hammered into wire.
THE TALLY MASTER
Seven years ago, reeling from a curse in the wake of battle, Gael sought sanctuary and found it in a most perilous place. But the citadel of a troll warlord—haunt of the desperate and violent—proves a harsh refuge for a civilized mage.
Set in the Bronze Age of J.M. Ney-Grimm's North-lands, The Tally Master brings mystery and secrets to epic fantasy in a suspenseful tale of betrayal and redemption.
Coming soon!
For more about the world of The Tally Master, see:
Gael's Tally Chamber in Belzetarn
Mapping Ancient Rome onto Belzetarn
Map of the North-lands in the Bronze Age
The Fortress of Belzetarn
The Dark Tower
Belzetarn's Smithies and Cellars
Belzetarn's Formidable Entrance Gate
Belzetarn's Treasures
Belzetarn's Great Halls
Bronze Age Swords
Brother Kings
For more about ingots of the ancient world, see:
Photo of an Ingot of Cyprus, British Museum
About Oxhide Ingots, Wikipedia
About Tin "Hat" Ingots, Wikipedia
About Tin "Hat" Money, Time Capsule Money Museum
About "Bun" Ingots, Parys Copper Mines