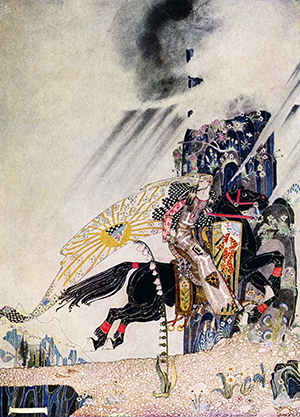 Fairy tales have always been amongst my favorite stories to read and to think about and to dream up sequels or alternate endings for. Immersed in them from an early age as I was, to me they seem an essential part of my foundations. So much so that I sometimes don't recognize when I am drawing on the heritage of these archetypal narratives.
For example, take the following scene, an early flashback from The Tally Master. I'm pretty sure the reconciliation scene from "The Widow's Son" in East of the Sun and West of the Moon must have come to mind when I wrote it, but I'd forgotten that connection completely until a few days ago when I stumbled upon an illustration by Kay Nielsen.
Blood dripping down one temple, Erastys wilted against the tree, his brother's sword at his throat.

"Do you yield?" growled Heiroc, his sword arm tense.

Erastys paled, but shook his head. "No," he whispered.

Heiroc's sword arm tightened, and they hung there an instant: the dark brother pinned to the tree, garbed in silver and red, wet with blood; the light brother clothed in bronze and aqua, drenched in river water.

Gael's vision pulsed in and out as he lay stunned, watching.

Heiroc's voice an edged hiss, the king commanded, "You shall yield!"

Erastys grew more pale yet, but his eyes narrowed.

"You must yield!" Was Heiroc begging?

Gael suspected his hearing was as injured as his sight and the rest of him. What had happened, there at the end, when something ripped inside him? He feared the answer.

Heiroc cast his sword to the ground, where it clattered against the tree's roots. "I cannot kill you."

Swift triumph gleamed in Erastys' eyes, and Gael would have cried out, had he been able. My king! My king! No!

As Heiroc turned away, Erastys shed his drooping stance—suddenly powerful—and seized his brother by the neck, thrusting him against the bloody bark where, a moment ago, Erastys had languished.

Erastys lifted his sword.

"Do you yield? Brother?" he exulted.

"No," breathed Heiroc.

"You shall," gloated Erastys.

"Never."

"But, yes, my brother. Oh, yes!" Erastys' teeth gleamed.

"You trade upon my mercy," snarled Heiroc.

Erastys' nostrils flared. "I had not surrendered."

"No. You had not. Nonetheless." Heiroc's spurt of temper calmed.

"I shall not be so weak as you. I can kill," Erastys said.

"I do not doubt it. Brother. Nonetheless. You trade upon my strength, not my weakness." Heiroc's tone was stern, and yet something lay under that sternness. What was it, thusly concealed?

"Does that mean you trade upon my weakness, since I trade upon your strength?" mocked Erastys.

Heiroc laughed. Gaelan's tears!

Erastys tensed his sword arm; and then cast his sword after his brother's—to the ground—and fell upon Heiroc's neck in a weeping embrace. Heiroc's arms went hesitantly around his brother's shoulders and then snugged him in tight.

It had been love, Gael realized, love beneath Heiroc's sternness. Even after a year of war, a year of bloodshed, a year of battle after battle. Dastard's hells!
I must admit that this scene between the brother kings Heiroc and Erastys is one that pleases me greatly.
But now compare it to the excerpt below from "The Widow's Son." The provenance seems pretty clear to me. What do you think? Is there a connection?
…but when he went down to the stable where his horse was on the day the wedding was to be, there it stood so dull and heavy, and hung its ears down, and wouldn't eat its corn. So when the young King—for he was now a king, and had got half the kingdom—spoke to him, and asked what ailed him, the Horse said:

"Now I have helped you on, and now I won't live any longer. So just take the sword , and cut my head off."

"No, I'll do nothing of the kind," said the young King; "but you shall have all you want, and rest all your life."

"Well," said the Horse, "if you won't do as I tell you, see if I don't take your life somehow."

"So the King had to do what he asked; but when he swung the sword and was to cut his head off, he was so sorry he turned away his face, for he would not see the stroke fall. But as soon as ever he had cut off the head, there stood the loveliest Prince on the spot where the horse had stood.

"Why, where in all the world did you come from?" asked the King.

"It was I who was the horse," said the Prince; "for I was the king of that land whose king you slew yesterday. He it was who threw this Troll's shape over me, and sold me to the Troll. But now he is slain I get my own again, and you and I will be neighbor kings, but war we will never make on one another."

And they didn't either; for they were friends as long as they lived, and each paid the other very many visits.
Of course, the young King and his Horse were never enemies as were Heiroc and Erastys. Nor does the earlier portion of the tale "The Widow's Son" resemble the story told in The Tally Master. But my scene seems to hold echoes from the end of the fairy tale, don't you think?
For more about the world of The Tally Master, see:
Gael's Tally Chamber in Belzetarn
Mapping Ancient Rome onto Belzetarn
What Does the Tally Master Tally?
Map of the North-lands in the Bronze Age
The Fortress of Belzetarn
The Dark Tower
Belzetarn's Smithies and Cellars
Belzetarn's Formidable Entrance Gate
Belzetarn's Treasures
Belzetarn's Great Halls
Bronze Age Swords