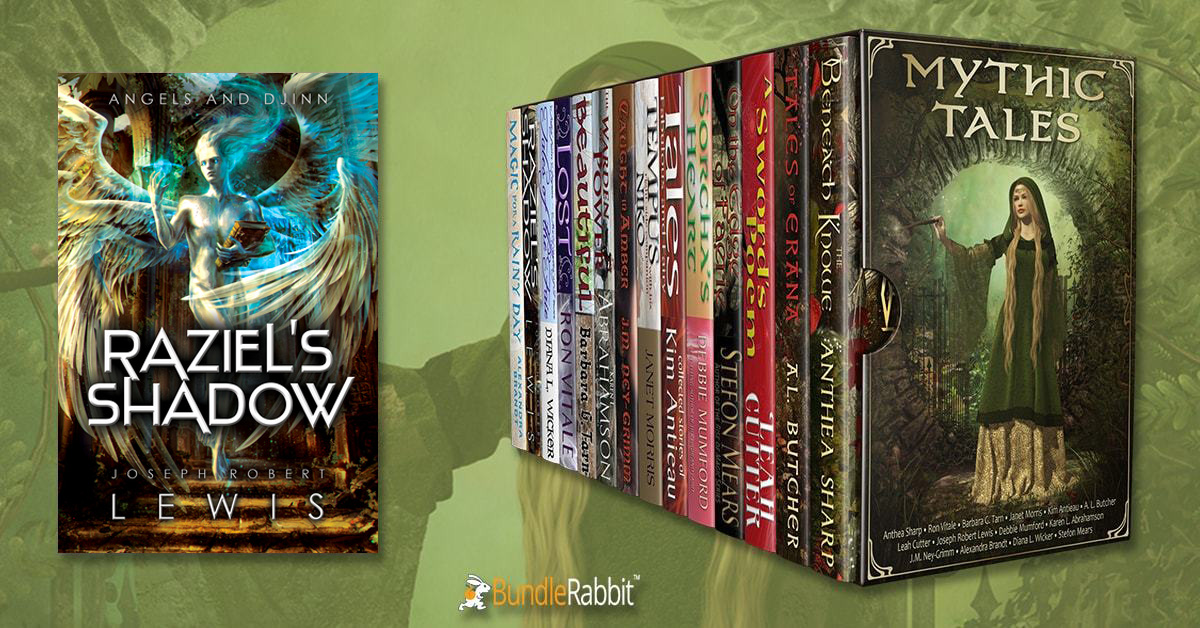 Raziel's Shadow by Joseph Robert Lewis is the penultimate title in the Mythic Tales bundle. I read it last week (last week, as I type this) and enjoyed it a great deal.
I found the world building especially fascinating and well done. It's an intriguing mix of the Arabian Nights and African mythology seasoned with a dash of pseudo-Biblical elements. The young protagonist, Zerai, is engaging and sympathetic. And the plot is well conceived, well told, and kept me guessing all the way through to the end.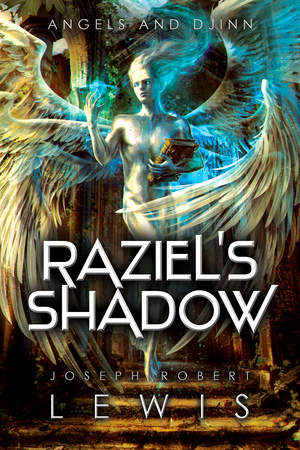 Here's a little more about the novel:
The young falconer Zerai thought he was a long-lost prince. He thought he would be granted supernatural powers to slay an army of demons. He thought he would reclaim his grandfather's empire.

He thought wrong.

After years of living in the wilderness, hiding from killer mercenaries and lethal monsters, Zerai has lost all of his friends, leaving him alone on a quest to save his country. But even after he joins a company of legendary warriors and seers from the east, his chances of success seem bleak against the vast southern armies, packs of bloodthirsty ghuls, and huge fiery ifrits that have claimed his homeland.

Drawn from elements of African history and mythology and inspired in part by the Arabian Nights, the epic fantasy series Angels and Djinn takes readers to a dark world where heroes and lovers confront fantastical creatures out of the strangest of dreams and the worst of nightmares.

Because it's been a few weeks since I first announced the Mythic Tales, I'm going to give a refresher below about the contents of the bundle as a whole.
Remember those epic legends of heroes and monsters? Stories of great adventure woven with magic and myth live once more in this collection; read of ancient lore, magic swords, wicked beasts, courageous souls, desperate champions, and unholy bargains. Fairy tales and bold ventures come together in this boxed set.

Beneath the Knowe by Anthea Sharp
Tales of Erana by A. L. Butcher
A Sword's Poem by Leah Cutter
On the Edge of Faerie by Stefon Mears
Sorcha's Heart by Debbie Mumford
Tales Fabulous and Fairy by Kim Antieau
Tempus by Janet Morris
Caught in Amber by J.M. Ney-Grimm
The Warden of Power by Karen L. Abrahamson
Beautiful by Barbara G. Tarn
Lost: Cinderella's Secret Witch Diaries by Ron Vitale
Tales of the Faie: The Beginning of Days by Diana L. Wicker
Raziel's Shadow by Joseph Robert Lewis
Magic for a Rainy Day by Alexandra Brandt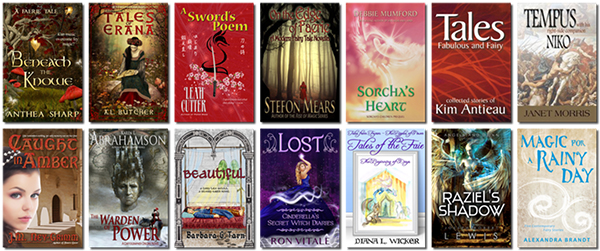 Bundles remain available for a short time only, usually for about 6 weeks, sometimes a bit longer.
The Mythic Tales bundle is now gone, but the stories that were in it remain available separately. A few are so good that each was worth the price of the bundle all on its own.
I urge you to check out the individual titles with an eye to purchasing the ones that particularly appeal to you.
For reviews of the stories and novels from the Mythic Tales bundle
(plus the odd character interview), see:
Mythic Tales: Beneath the Knowe
Mythic Tales: Caught in Amber, Character Interview – Fae
Mythic Tales: A Sword's Poem
Mythic Tales: Tales of Erana
Mythic Tales: Tempus
Mythic Tales: Author Interview
Mythic Tales: Magic for a Rainy Day