Clary is the great grand-daughter of a rofane of Auberon, and her papa is a renowned sculptor. The family could live more ostentatiously than they do, but their values are bohemian rather than those of status. Their cottage is merely roomy and comfortable. In my mind's eye, I envision it looking a little like the photo below.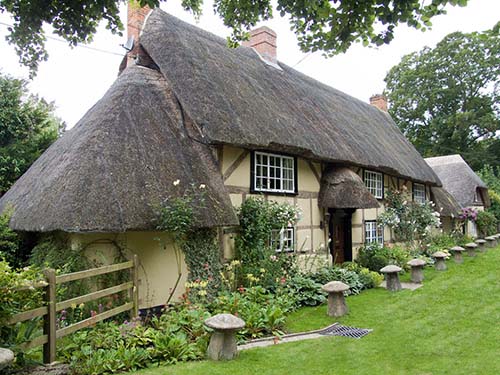 I found images that reminded me a little of Clary and her sister Elspeth, and I initially envisioned creating a cover featuring the girls and their home. (If the girl in the garden were Clary, her hair would need to be worn loose, and she'd soften her still "posing for a portrait" stance. But Elspeth's double is very like her.)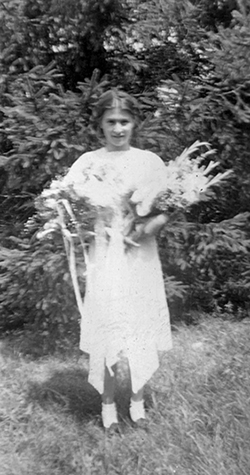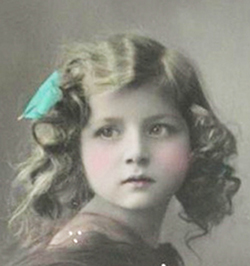 Intuition counseled me to try a different tack. The magnificent and dangerous creature that is the heart of Perilous Chance summoned my focus, and I searched for images of fierce, winged, fantastical beasts.
The Dreamstime web site of stock photography features some amazing art (drawings and photos) available for very reasonable prices. I've used them to supply works for many of my covers, and they came through again this time.

I'd love to know the location where "Griffon 01" by Henner Damke was photographed. Is it beside the formidable gate to a medieval castle? Or gracing the edge of a Renaissance fresco? Damke does not say, and I can only guess. It's described as a "reconstructed relief" and listed under the category of arts & architecture.
For my cover, I clipped the gryphon out from its plain backdrop.
Then I thought about suitable backgrounds. Roiling water? Stormy sky? Hmmm. What about a flower-strewn tapestry? The people of Auberon in my North-lands use tapestries

extensively in the interiors of their homes. Something resembling the real world Hunt of the Unicorn would be perfect. I found something very nice, although I cannot place here the exact image I selected, because I did not (in the end) buy it and use it. Instead I'll feature the Hunt of the Unicorn, which is similar.
As I hoped, the bas relief gryphon looked very nice against the dark tapestry. I flipped the image to follow the natural path of the human eye from left to right. After experimenting with title placement, I extended the gryphon's top wing feather. And I turned the beast gold. Looking good!
I placed translucent shadows at the very top and bottom of the art to spotlight the gryphon and serve as a dark ground for the cover text elements. Then I typed in my title, the title tag line (something wondrous this way comes), my byline, and the author tag line. I liked it. But, but, but. Something wasn't quite right. The cover was beautiful and evoked the right feeling, but it implied that the story was historical fiction, not fantasy. Perilous Chance is fantasy, and I needed a cover that read as fantasy.
Maybe white water would be more suitable. Or . . . no! My winged beast is a creature of the sky. The middle part of my brainstorming had generated the right choice.

Time to go sky-hunting! A lightning bolt slicing orange clouds caught my attention, and I tried it. (Again, I can't show you the cover with that precise image, but I can depict something very similar.)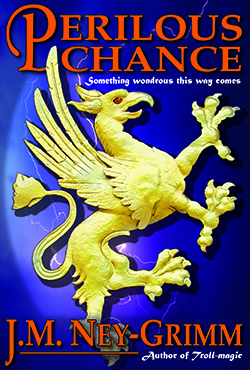 But – yet again! – but, but, but!
That still was not right. Back to the search for the right image. This time I found it: lightning sizzling through a cobalt sky. Perfect! Especially since the cobalt-white streak of electrical energy mirrors the magical powers wielded by my fabulous creature. I hope you agree!
For readers whose interest was piqued by this sneak preview of Clary, Elspeth, and the magnificent creature they confront, Perilous Chance is available in electronic bookstores.
Amazon I B&N I Diesel I iTunes
Kobo I Smashwords
More posts about book covers:
Cover Copy Primer
Building Star-drake's Cover
Choosing a Tagline Font
More about Perilous Chance:
Justice in Auberon
Clary's Cottage
Notes on Chance
Not Monday, But Lundy