Talented fantasy author, Stuart Jaffe, invited me to write a guest post for his blog several months ago. He's recently migrated his blog to a new web site with stunning visuals. Pay him a visit. It's worth seeing. And he's collected quite an interesting bunch of thoughtful posts on how writers create – both his own and those of others.
My post for Stuart featured my perceptions of the artistic influences behind my novel Troll-magic. I thought you might enjoy a break from the story openings of the last few weeks, so I'm reproducing that guest post here on my own blog.
*     *     *
The Twelve Dancing Princesses? Superb, but no.
Rapunzel? Lovely, but . . . also no.
Beauty and the Beast? Getting closer!
Were they favorites? Very much so!
I imagined jewel-themed bedchambers for the twelve princesses and enchanted castles for the Beast. I wondered how the tale might have changed if Rapunzel's wisewoman never did transform into the wicked witch. Or what if the woodlands of copper, silver, and gold in the underground realm transformed into writhing metallic hydras when the crystal palace shattered?
As beguiling as I found the classics, it was the Norse folk tales in East of the Sun and West of the Moon that evoked my greatest wonder. My copy of the 1914 edition belonged to my grandmother. My mother enjoyed its stories in her own childhood. Eventually the book came to me: a family prize passed down through generations. How bizarre were its villains! How alien its culture! Grotesque crones challenged resourceful young women and men to pursue adventures weird and wonderful. Fascinated, I read and re-read it. If only there were more!
The illustrations by Kay Nielsen were an integral part of the book's charm. Their strange beauty and elongated style presented a cool landscape of alpine flowers and glacier-scraped rock. I wished I could step right into the paintings to wander the quirky meadows, to encounter the knights on their magnificent horses, to liberate the imprisoned sun from the castle dungeon.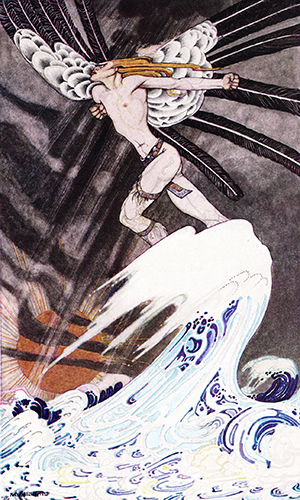 Like C.S. Lewis, ravished by a cold clear magic of "northerness" that embodied the sacred for him, I too was seized. I did not chose my re-telling of East of the Sun and West of the Moon (the title story from the collection). It chose me! Troll-magic's opening scene cascaded into my imagination and out through my pen (I wrote the novel longhand) like a geyser, its flow challenging my ability to keep up.
The landscape, as much as the capable protagonists (and troll crones), was a source for my creative energy. Storm-tossed waves – from "The North Wind goes over the sea" – crashed against the spire of basalt thrusting into a frigid sky where a turreted castle surveyed the arctic expanse surrounding it. Who lived there? And how did she come there? The places captured me first, and then showed me their inhabitants and histories.
In spite of my fascination with setting, it's the characters that drive my tales. I wrap their lives around me and see what they see, think their thoughts, feel their choices. The moments that really matter – when heroic compassion emerges or grievous mistakes are made or deep wisdom coalesces – arrive as I write the scenes, surprising even me at times.
The first such surprise in Troll-magic occurred with Helaina. She's an herbalist trapped by a curse in the insubstantial body of a ghost, and she experiments with the wrong remedy to cure her malady.
I knew the results would be poor. But the intensity of her reaction was an astonishment to me. In ghost form, Helaina can see, hear, and touch the world around her almost normally. But her hands pass right through her own body as though it were not there. Her only certainty that she is more than a dream or a figment of imagination comes from her ability to touch things. After inducing a migraine headache, her herbal remedy erodes her sense of touch, starting at the feet and edging upward.
Helaina panics. Totally logical, when you analyze it, but I didn't arrive there through analysis. I was Helaina, feeling the sensation in her feet disappearing, feeling it fade from her legs. I felt her dread. I felt her mad run for the swimming grotto nearby, where she flung herself into its pool. The water counteracts the disaster wrought by her herbs, and her relief is as strong as her previous terror.
Then Helaina notices that her ghostly body is visible beneath the water, its boundaries delineated where the liquid ends and her incorporeal self begins. She revels in it, ecstatic. And I reveled in the wholly unexpected scene. This was creativity at its most exciting. I'd almost say, "This is why I write," except that the first inklings of a story are equally fun. And pursuing my characters all the way through their adventures satisfies something deep inside me.
Ancient folk tales, art nouveau paintings, and the magic evoked by the writing process itself all inspired Troll-magic. Other wellsprings of inspiration contributed, but instead of exploring more of what generated my tale, I'll invite you to experience the story itself. Here's the opening passage in which we meet Helaina's foster son, Kellor.
*     *     *
In darkness he touched his nose, felt his ears. Oh Sias! They were larger. More deformed. Horror shook his fingertips. What should he do? What could he do?
Chaotic memory gripped him. Stabbing tangerine light and agonizing pain. His body taken by unfathomable force and twisted, reshaped.
What was this? Where was this? None of it made sense. And the absolute blackness didn't help. He took a deep breath. And another. There. He was steadier now. Some sort of solution existed. He could sense it, just out of reach. Closing his eyes against the dark, he stretched his mind. He'd done . . . something . . . last . . . night? It didn't matter when. What was it he'd done? He tried again to call it to mind, pressing against the blankness in his thoughts. Breathing was part of it; patterned breathing. Which reminded him that holding his breath wouldn't help. Someone . . . a teacher, had told him that tension inhibited . . . something. He sighed. Patterned breathing. Fine, he would do some. He breathed out to a slow count of three, then in for the same.
And then he had it. Patterned breathing and patterning. He was a pattern-master. Or, at least, an apprentice one. And he'd done . . . not patterning, last night, but a forbidden version of it. Something other. He should try it again. It had worked. Maybe it would work again. Could he do it?
*     *     *
There's more, of course. Most online bookstores, such as Amazon or Kobo, make many pages available for sampling so that prospective readers can decide whether a story is to their taste. And then there's the whole book! If Norse folk tales intrigue you, if fabulous worlds excite you, and if surprises delight you, give it a look.
Troll-magic at Amazon I B&N I Diesel I iTunes I Kobo I Smashwords I Sony
* * *
For more about Troll-magic, see:
Silmarish Magic
What Happened to Bazel?
Bazinthiad's Fashions