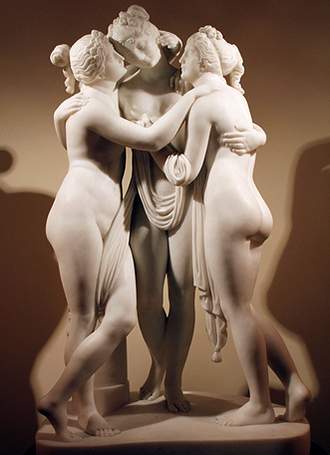 My newest work, Devouring Light, will release soon. I'm excited! Eager to make the story available for readers!
To tide myself over until the release – and because I can't resist – I'm sharing some of the tidbits I've learned while doing research for the book.
This week, I'm talking about the Graces of ancient Greece.
And why am I presenting the Graces? Because they were the archetypes I drew on when dreaming up Lixy's handmaidens.
"Who is Lixy?" you ask.
The beautiful celestial wanderer who fetches up at the domicile of Mercurio, my protagonist. Lixy is lovely, mysterious, and utterly lost – both in memory and in space. She doesn't know who she is or where she came from. Quite the intriguing puzzle for Mercurio, who gives her shelter.
Lixy does remember her handmaidens, especially Eupheme, her nurse when Lixy was young.
So what about the Graces?
They were female spirits personifying the feminine attributes of grace. The most famous, the "Three Graces," were Splendor (Aglaea), Mirth (Euphrosyne), and Good Cheer (Thalia).
But there were also "lesser" Graces. These were the ones who caught my attention. So who were they?
Philophrosyne personified welcome, friendliness, and kindness. Her name means "friendly-minded," and I envision her as a spirit of hospitality. She became a cupbearer in Lixy's home star system. Cupbearers in ancient times were particularly honored, since they ensured that the food and drink of a ruler was pure and unpoisoned. Hebe and Ganymede, cupbearers in Greek mythology, took that role in the solar system (ours) where Devouring Light takes place.
Eupheme personified words of good omen, praise, acclaim, shouts of triumph, and applause. Wow! She sure appealed to me! And I could see why Lixy remembered her. Who wouldn't remember the person who steadfastly offered genuine and enthusiastic praise? Her name means "well-spoken," and she was nursemaid to the Muses of Greek Mythology. It seemed appropriate that my Eupheme served as Lixy's childhood nurse.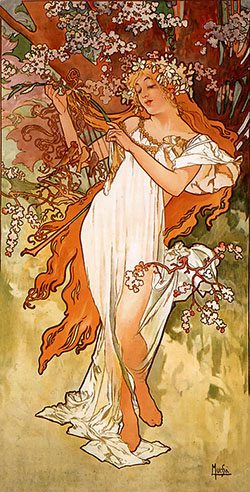 Euthenia personified prosperity, abundance, and plenty. Her name means "well-being." Like her sisters, she was believed to be the daughter of Hephaestus and Aglaea. I envision the Euthenia of Devouring Light as possessing healing skills.
Eucleia personified glory and good repute. In Greek mythology, she served as Aphrodite's handmaiden and was also associated with Artemis. She represented the loveliness of the bride approaching her wedding. I imagine the Eucleia of my story as modeling and encouraging integrity in Lixy. Her name means "renowned" or "celebrated."
I'm almost tempted to write a story in which these four Graces get some "stage time," rather than serving as a part of Lixy's background!
For more about the world of Devouring Light, see:
The Celestial Spheres of Sol
What Do Celestials Wear?
Roman Dining
The Heliosphere
The Oort Cloud
Mercury the Planet
Draco the Dragon
The Simiae