If you've never read any Bujold, A Civil Campaign is a great book to start with. Ditto Rose Daughter by Robin McKinley. The other two volumes in this list might hold up well under stand-alone reading, but they're best following books one and two in their respective series.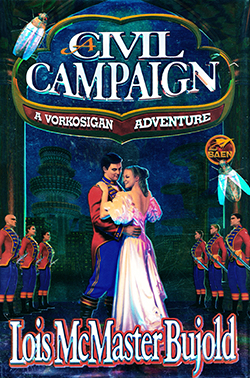 Ekaterin Vorsoisson has declared matrimony a no-go zone. Once was enough: the entire population of women in Vorbarr Sultana can have her share of eligible bachelors, thank you very much. But Miles Vorkosigan, count's heir to his home district, hopes to persuade her otherwise.
Ivan, Miles' cousin, decides settling your affections on a woman before you've even begun the courtship courts anything but a happy-ever-after. Time to dig up some rivals. Never mind that Miles plans to woo under camouflage, lest Ekaterin bounce him back before he starts. Some competition will do him good.
That's where this "comedy of biology and manners" starts, but political cloak-and-dagger work, incompatible planetary sexual mores, an old Cetagandan scandal, and a bio-genetics experiment escaping the basement lab spin cunning strategies into a whirl of humorous confusion and conflict. With friends like this, who needs enemies? But Miles has those as well!
A Civil Campaign at Amazon
A Civil Campaign on Kindle
A Civil Campaign at B&N
A Civil Campaign on the Nook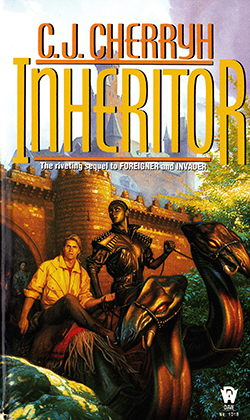 Huge differences create insurmountable barriers between alien societies, but resourceful individuals sometimes mediate the innate prejudices successfully. Bren Cameron, the paidhi from Mospheira, is one such individual. He stands between the human interlopers on the world of the atevi and the Western Association, the only governing body amongst the natives powerful enough to rule its diverse factions.
The Western Association under Tabini aiji engages in a breakneck space race, and Bren must supervise the program, translating the complex engineering diagrams needed to build a shuttle. The schedule is tight, the stress heavy, but as long as nobody starts shooting again, that counts as peaceful.
Troublemaker and patsy for a bigoted political group – Deanna Hanks – has been bundled back to the island of the human enclave. Jase Graham, intrepid rep for newly returned human spacefarers and potential friend, managed to drop safely to earth on an ancient petal-sail. Life is good.
Until illicit radio messages from across the strait impel the atevi elite to maneuver for advantage, and an unspoken dissatisfaction turns Jase morose and hostile. Bren declares a real vacation a necessity and turns to his ally Ilisidi, aiji dowager, for help. Ilisidi suggests Saduri, a fortress from medieval times for their destination. But Ilisidi possesses a hidden agenda for the trip, as does Jase Graham. Can Bren keep the precarious peace between species while his cohorts pursue competing goals?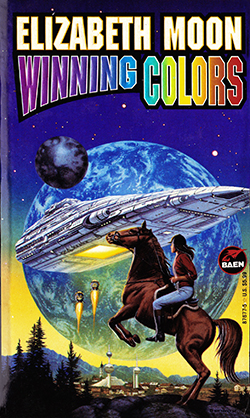 Space opera at its best, Winning Colors mixes interstellar mafia with a horse-mad 90-year-old, a cashiered ex-navy captain, and an assortment of spoiled young aristocrats to deliver up marvelous mayhem sprinkled with insightful exploration of the human spirit. Third in the Familias Regnant series with Heris Serano and Lady Cecelia.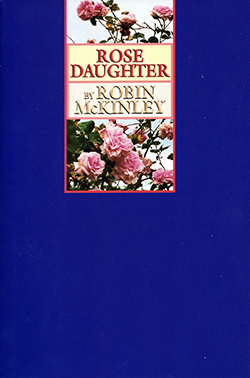 Robin McKinley wrote Beauty, a retelling of Beauty and the Beast, as her debut novel and never dreamed she'd return to the story twenty years later. Uprooting herself to marry English writer Peter Dickinson, she waited to sell her lilac-covered cottage in Maine. Later, parting from her old home, severing one more tie to the land of her birth, proved surprisingly fraught. And her favorite fairy tale roared through her storyteller's heart once more: Rose Daughter poured onto the page. Compelling and richly imagined, her new rendition of Beauty and the Beast conveys fresh perspective and insightful wisdom.
For more of my favorite reads, check these posts:
Beauty, Charm, Cyril & Montmorency
Duplicity, Diplomacy, Secrets & Ciphers
Mistakes, Missteps, Shady Dealing & Synchronicity
Gods & Guilt, Scandals & Skeptics